How The Dove Brand Is Putting Their Money Where Their Mouth Is For Black Moms
by Elisha Beach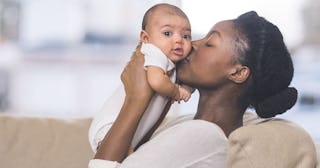 FatCamera/Getty
Since the protests of June 2020, countless companies have paid lip service to the Black Lives Matter Movement. They jumped on board with social media hashtags and wrote open letters expressing grief, outrage, and sympathy to the public. And some went so far as to announce initiatives promising to address racism in their products or organizations. But the question is, how many of those companies followed through with action?
Baby Dove is one of the companies that is putting their money where their mouth is. But Dove is no stranger to standing for diversity and inclusion. The brand co-founded the Crown Coalition to advance the Crown Act, which makes hair discrimination in schools and the workplace illegal. Dove also released the My Hair, My Crown initiative to help children feel confident with their natural hair texture. And a few months ago, Baby Dove announced the Black Birth Equity Fund in partnership with Black Mamas Matter Alliance to help close the gap in care for Black mothers and birthing people during the pregnancy, delivery, and postpartum stages.
It's no secret that the United States has one of the highest maternal mortality rates among high-income countries. And it is now a well known fact that maternal mortality rates of Black birthing people are three to four times higher than that of their white counterparts regardless of socioeconomic status, background or education. With the Black Birth Equity Fund, Baby Dove has pledged $250,000 to provide more than 190 individual grants of $1300 to help cover the cost of doula services and contribute to closing the maternal health disparity gap.
Why doula services? Doulas are trained professionals that provide physical, emotional, and mental support to help ensure birthing people receive the best care possible throughout pregnancy, delivery, and postpartum. Research has proven that doulas improve maternal health outcomes by helping birthing people with managing information, advocating for their personal care preferences, and identifying and connecting them to helpful resources.
Angela D. Aina, Co-Founding Executive Director at Black Mamas Matter Alliance and Baby Dove Strategic Advisor, stated, "For Black and other traditionally marginalized communities, Doulas have been proven to help reduce health disparities, as well as bridge language and cultural gaps between families and health providers. With notable support from global brands like Baby Dove, we will be able to raise greater awareness of Black maternal health, promote advocacy, and shift culture to support reproductive justice."
As a Black mother that has birthed three children and a practicing postpartum doula, I am well aware of the challenges Black birthing people can face in the healthcare system during childbirth and pregnancy. During my first pregnancy, I spent the first 30 minutes of my very first appointment being questioned about how I planned to pay for the birth of my baby. At the time, I was covered by two different health insurance policies. I left that appointment in tears and then purposely searched for a Black, female OBGYN that I have since been with for over 11 years.
As a postpartum doula, I have had a couple of clients that felt so shamed by their doctors that they didn't return for the six-week postpartum follow-up. And then there are the stories of people like Serena Williams having to forcefully advocate for proper medical care when their concerns were disregarded. And, sadly, there are stories like that of Kira Dixon Johnson, who died from complications following a routine c-section after her complaints of pain were ignored for more than 10 hours.
Sally Brown, Global Brand Director, Baby Dove, explains, "At Baby Dove, we believe Black moms have the right to superior care at every step of their journey. But for too long, Black moms have not received the care they deserve, and the consequences are significant — we are committed to helping change that. Expanding access to doulas through the Black Birth Equity Fund is just the beginning, and in partnership with organizations like Black Mamas Matter Alliance, we will work towards systemic change that will improve the birthing journey for Black moms and their babies."
In reference to Dove, Brown further explains, "We view our role of driving change as an extension of our responsibility as leaders in the beauty industry. As a brand born to provide care to new families, we are proud to use our platform to amplify awareness of Black maternal health and take immediate action. Across Dove, we believe that all families deserve equitable care, including Black expectant mothers."
In addition to its work with the Black Birth Equity Fund, Baby Dove, in collaboration with Walmart, is introducing the Baby Dove Melanin-Rich Skin and Curl Nourishment Collection – a full range of skin and hair products specifically developed for babies with melanin-rich skin and coils, curls, and waves. And Baby Dove collaborated with illustrator Keturah Ariel Nailah Bobo on a limited-edition gift set also available exclusively at Walmart and walmart.com, and 100% of profits will go to the Black Birth Equity Fund.