I Signed Up For Beachbody, And The Only Thing That Got Thinner Was My Wallet (Because Automatic Renewal)
by Christine Burke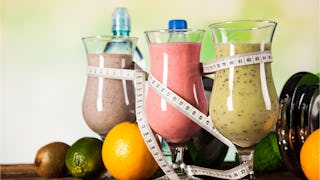 BrunoWeltmann / Shutterstock
Recently, fitness company Beachbody, known for its pre-made health shakes and grueling exercise videos, was fined $3.6 million for charging customers for products without their consent. A judge in the Santa Monica Superior Court found the company guilty of enrolling customers in autopay programs without their knowledge and fined the company heavily.
RELATED: How To Stop Diarrhea Quickly, Because No One Has Time For This Crap
Further, the company is now expected to disclose renewal terms, provide a checkbox for customers' consent, allow easy cancellations, and send reminders of upcoming renewals. They were not doing these things on their own accord, but will be required to do so now.
When a friend made me aware of the California court's judgement, I breathed a sigh of relief.
I, too, was a victim of the Beachbody autopay nightmare, and I'm still pissed about it.
About a year ago, I was looking to drop a few stubborn pounds and accelerate my exercise regimen with something new and different. Everywhere I looked, people were singing the praises of their "coaches" and the Beachbody exercise routines so I decided to give it a try.
While P90X and PiYo sounded more like gaming systems I'd buy my teen, I was intrigued. The people in the promotional exercise videos looked so happy and fit — and not at all hungry from starving themselves on a diet of lemons, water, and cayenne pepper. According to their website, people were dropping pounds faster than waterfalls off Niagara and their ready-made shakes sounded like an answer to my on the go, working mom lifestyle.
One shake a day and a fun workout and I'd be closer to seeing my abs again? I could do that.
I immediately set about ordering the PiYo videos and shake powder.
But I quickly found out that it wasn't as easy as Amazon 1-Click to start my journey toward my complete health transformation.
Rather, I had to find a "coach" because Beachbody, I soon realized, is another multilevel marketing company that makes their money by having sales reps build their pyramid by selling their product.
Eye roll.
But the shakes were going to save the day!
Put me in, coach, I'm ready for superfoods in my glass!
After I found a coach, I explained what I wanted: a month's supply of Shakeology shake powder and a set of PiYo DVDs. That's it. I wanted to dip my feet in slowly as I tested the waters of this new Beachbody lifestyle.
Naturally, my coach was ecstatic that I'd chosen to join her beach party.
And she wanted to sell me every Beachbody product, video, and shake they offered. She excitedly described how she could help me develop a health plan and that she'd be there every step of the way as I embarked on my new journey. Oh, and by the way, did I want to become a coach, too, and sign other friends up for these amazing deals?
Hard pass. Just give me the shakes and leave me to my basement exercising, okay, Karen?
Though I was a little put off by her hard sales pitch, I accepted and eagerly awaited my Beachbody package.
After my Beachbody goodies arrived, I dove into total body fitness. I followed the workout video schedule. I incorporated the shakes into my daily routine, and smugly told myself that I was going to be fit AF and even if the shakes tasted like chalky, raw mushrooms, my body was going to be transformed.
My exuberance lasted for about 10 days because that's when my body went into full-on revolt with the shakes. So. much. diarrhea. I guess I don't have to point out that it's impossible to do pilates style exercise moves when you are pretty sure you will lose the contents of your bowels with every stretch.
Shakeology was an epic fail. My transformation was over before it started.
Not wanting to upset my overly eager coach, I sidestepped her incessant instant messages about my progress and offers to try new products. I wanted to forget the whole Beachbody nightmare. And to stop shitting my pants, frankly.
However, Beachbody had another surprise for me, unbeknownst to me, my "coach" had enrolled me in the "autopay" option for my Beachbody products. My credit card was charged double the introductory rate the next month, and I had more products arrive at my door — without my knowledge or consent.
And it got worse.
Suddenly, my overly exuberant coach who'd promised to be with me every step of the way was MIA. I couldn't get an explanation as to what happened or any information on how to stop my payments.
Hours of searching later, I finally got in touch with a Beachbody representative who promptly chastised me for wanting to give up on my transformation. After not so politely telling her exactly where she could shove her superfood shakes, she agreed to help me unenroll from the autopay program. But I had to sign a sworn affidavit that I wouldn't buy Beachbody products for six months, and I had to relinquish my rights to be a Beachbody coach for a whole year.
You can imagine my devastation at this news. Not.
By taking Beachbody to task for sneakily hustling customers out of their hard-earned money, the California ruling sends a stern message to other MLM companies that continue to use questionable business practices to lure customers to buy (and keep buying) their products.
Further, the ruling requires that Beachbody provide its customers with scientific proof to back their health and wellness claims. And Beachbody, to their credit, seems to be willing to make the necessary changes so that their 23 million customers will have more transparency when purchasing or promoting their products.
Time will tell, but for now, it's a step in the right direction.
This article was originally published on