Our Best Friends Are The Family We Make For Ourselves
by Katey Johnson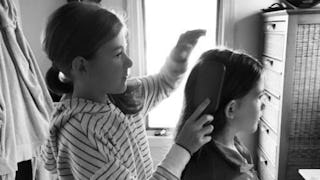 Katey Johnson
This is my daughter Olivia brushing her friend Ellie's hair. I took this photo when my family was visiting my best friend Nichole's family last spring. Ellie is Nichole's daughter. The girls didn't know it at the time, and they still don't, but it was the weekend they became best friends.
It was Saturday morning and I'd slept in the kids' room with all four kids in case mine woke up during the night. The kids got up early and headed downstairs to play. I heard some husband voices down there, so I continued to doze, a little wine-soaked from the night before. A while later I woke up to the sound of the girls chatting in Nichole's large closet, attached to the kid's bedroom. The door was cracked enough so I could see Olivia brushing Ellie's hair. I quickly got out of bed and crept in to snap a few pictures before they could protest.
A little background: Nichole and I come from a long line of best friends. Our grandmothers were neighbors and close friends, so our fathers had always been close. When Nichole was born six months after me, our best-friend destiny was sealed. That was 40 years ago.
Now, the five-hour distance between my Long Island home and Nichole's Syracuse home makes it difficult for us to get together as much as we'd like. We had a great weekend with them, and our kids cried when it was time to say goodbye. On the car ride back to Long Island, going through the photos on my phone, I came across the hair-brushing pictures. All bleary-eyed and probably recovering from the night before, I'd forgotten I took those.
An Instagram fan, I quickly added a few filters to it and posted it to my Facebook page. It wasn't until a few hours later that I looked at the picture again and got chills, suddenly remembering the last time Nichole had brushed my hair. The morning after my brother died. The day she became my sister.
It was July 8, 1993. She and I were 16. My brother J.P. had died suddenly the day before from cardiac arrest following a bout of heatstroke. He was 19. Nichole slept in my bed with me and woke up next to me with the confirmation that the day before hadn't been a nightmare like I hoped. That morning I went to the funeral home with my parents, somehow thinking they could use my support. I didn't last long, and I ended up on the front steps of the funeral home in the hot summer sun waiting for my aunt to pick me up.
Getting back to the house, Nichole was still there. I played Wish You Were Here by Pink Floyd on repeat because my brother used to play it. I sat on the floor dazed, and she sat behind me and brushed my long brown hair while the music blared. Because the days that followed were such a blur, I hadn't thought of that moment in 24 years. What seemed like a small gesture at the time now reveals itself to me as the moment she stepped into her rightful role as my heart's mender, and still now, my heart's protector.
I'm not writing this to rehash the feelings of that awful time. I'm writing this because when I looked back at the picture of Olivia brushing Ellie's hair, it struck me that what Nichole and I share, our girls have begun to share. It was a strange and beautiful feeling. They're 10 and 7. Their three-year age difference was palpable until that weekend when I took this picture and they became inseparable.
I remembered Nichole's grandmother telling me stories about my own grandmother. I wondered how many times they'd laughed together or consoled each other or stood together in front of a mirror while they prepared for a night out with our grandfathers. I wondered if they'd had any idea that something as simple as their friendship would become so much more for Nichole and me and now for our kids. I wonder how happy they'd be to see their granddaughters and their great-granddaughters sharing the same bond they shared almost 80 years earlier.
This picture is the culmination of 40 years of laughter, tears, firsts, lasts, fights, failures, and triumphs I shared with Nichole. I realized our daughters will have that together now. That's the legacy we've passed on to them.
When I look back at the picture of Olivia brushing Ellie's hair, I hope one day our girls will realize that they're so much more than "fourth-generation besties." I hope they'll understand that sometimes the best kind of family is the kind you find outside your bloodlines. It's the family that somehow becomes your family through the opening and rending of your hearts and the experience of shared joy. It's the family we make for ourselves.