These Compact, Foldable Treadmills Let You Work Out Anywhere -- Even In A Small Space
We only recommend products we love and that we think you will, too. We may receive a portion of sales from products purchased from this article, which was written by our Commerce team.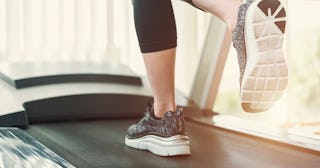 Getty Images/Tawan Chaisom / EyeEm
Compact treadmills and foldable walking pads are the cardio saviors that'll help you work up a sweat literally anywhere. If you're like the rest of the world in 2022, your fitness routine may be out of whack because, well, gyms and fitness studios are not what they used to be pre-pandemic. It's inspired a huge increase in the purchasing of at-home workout equipment, from jump rope sets and yoga mats to cycling bikes and even treadmills. But, if you're also like most of us, you probably don't have the sprawling space you'd need for a full-fledged indoor treadmill. And that's OK because they make them super small and compact these days.
What to look for (and avoid) in compact treadmills
When shopping for a compact and/or foldable treadmill, there are a few things to keep in mind. Unless you specifically want a walking pad to have under your standing desk, a treadmill with handles and a cushioned deck is highly recommended for comfort. As for the technical stuff, Simon Gould, a fitness equipment expert who's worked with treadmills for over 25 years, gave Scary Mommy a few pointers.
"Parents need a treadmill with a good warranty. Look for 1 to 2 years of labor. This shows the company has faith that their equipment will stand the test of time," Gould advised. "There should also be a strong motor (3.0 CHP or more). This indicates its power and means it can take walking and running."
In terms of what to avoid, Gould was adamant on one thing: no cheap treadmills. It's worth investing in something that will last, rather than having to buy another treadmill machine a couple of years (or months) later. "Cheap treadmills are cheap for a reason, you get what you pay for. They have short warranties like 90 days and won't last very long," Gould said.
Before purchasing anything though, Gould suggests taking measurements of your home to ensure the treadmill will fit in the area or room you have in mind. The great thing about foldable treadmills is that you can put them up and away from kiddos and pets when it's not being used, but in the likely chance that you leave it out (because sometimes we're just too busy), make sure to consider its placement in terms of clearance and accessibility.
TIP: If you do decide to leave your compact treadmill out and accessible, make sure to unplug it after every use so no accidents happen!
Are compact treadmills worth it?
Um…100% worth it! Treadmills made for small spaces are the bomb because they don't sacrifice quality, horsepower, speed, endurance, and all those other important things, but they do lack in taking up space, which is a good thing. Most of these treadmills are foldable so you can set them up amongst your kids' scattered Baby Shark toys, rock your cardio routine, then tuck them away when you're done. You can even stash one under your standing desk to stroll as you get work done.
So if this is a piece of home workout gear you could actually get behind, scroll on. We've dug up the best walking pads and treadmills for small spaces. P.S. If you've never heard of a walking pad, you're definitely going to want to.
Best Folding Treadmills
There are a lot of reasons why this folding treadmill is the number one best-selling treadmill in its category on Amazon—and it's not only because of its amazingly low price. It has the look and feel of a full-size treadmill and can hold up to 220 lb. It also features 9 built-in workout programs, handrail controls, and phone/tablet holder. "The soft drop system will assist you when unfolding the treadmill, avoiding a big slam or damage to your wood/carpet floor," says NASM, FMS certified trainer, ISSA certified nutritionist and founder of Truism Fitness, Jamie Hickey. "It features a digital monitor that tracks your speed, time, distance, pulse and calories which makes it easier to track your fitness goals."
Small, but mighty, this folding treadmill allows you to walk or run at speeds ranging from 1-12 KM (up to 7.5 mph). It allows you to pack it into storage areas of your home without a hassle thanks to convenient transportation wheels and has a large LCD display that gives you all the important performance stats you need to know while you're getting your workout on.
Best Treadmills For Small Spaces
This 2-in-1 folding treadmill was designed to accommodate even the smallest of homes. It has two different modes—when the rise is folded you can use it for jogging and when the handrail is raised you can use it for higher-speed running. It has a 2.25 HP motor and is nice and quiet (so it's great for those living with roommates or in apartment buildings). Another great feature: You can connect the treadmill to your phone via Bluetooth and play certain music you like, watch videos or catch up with friends.
For beginners, this under desk treadmill may be the perfect solution to get into running. Available in black, blue, red, and silver, this mini treadmill runs at 7.5 miles per hour. This model is shock-absorbing and non-slip, which might make you feel good if you're not your most coordinated self. It's quiet, smooth, and doesn't require too much difficult assembly.
Best Treadmills For An Apartment
If you've always wanted a NordicTrack, but didn't think you had the room for it, think again. This is their small-sized treadmill and it comes with all the trimmings, including a 5-inch display, a smart response motor for effective speed, interval and endurance training and it's foldable! It's designed with EasyLift Assist, which means your treadmill can fold up after your run for compact.
If you're looking for a foldable that acts a lot like a full-size, the SereneLife treadmill may be a good choice. It's foldable, has an auto incline, and is great if you want to play music while you run. This treadmill works with the Fitshow free app, which you can download on your iPhone or Android. The app will help keep track of your stats, so you can always try beating your personal best. "This SereneLife treadmill is AWESOME! It came put together except [for] the control panel. It's very stable and solid. It's quiet! It has all the bells and whistles I want from a treadmill: motorized incline, speeds to 10, decent length, etc. And it all works great!" raved one Amazon customer.
Best Foldable Walking Pads
Affordability, portability, and a sleek design — what's not to love? Though simple, the UMAY has all the features you want: It's virtually noise-free, you can control this pad with the accompanying remote, and when not in use, it can be folded up and stashed away, making it super compact (and portable) for any space. But when it's out, you'll want it to match your decor (obvi), so snag it in one of three colors: white, pink, or black.
Don't want to spend hours setting up your treadmill? This one comes fully assembled right out of the box! It's just a walking pad, but it packs a ton of power so you will still feel like you're on a full-sized treadmill. It has a wear-resistant, anti-slip belt along with a noise-reduction layer so you don't have to worry about bothering your roommates and neighbors. It can be packed into even the tiniest of places, thanks to the fact that you can fold it in half and move it smoothly with two wheels on the bottom. Users also claim it's relatively quiet, with one Amazon reviewer saying, "very surprised at how quiet (almost silent) it is when running freely. When you step on it it makes a little more sound but nothing distracting."
It may be tiny, but it can definitely provide a solid workout. The miniTREAD was designed to be used only while in a seated position, giving you the ability to work and walk a marathon at the same time. Weighing in at 300 pounds, the miniTREAD provides low to no impact on your joints. You might even forget you're workout out while using it. "Sturdy, well built, easy to use AND move. I love getting a workout while I'm sitting at my desk working!" said one Amazon customer.
This article was originally published on