CA School Board President Curses At Parent Speaking Against Mask Mandates
by Erica Gerald Mason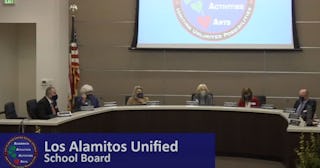 Los Al Unified/Youtube
A school board meeting turned contentious when a parent objected to a district-wide mask mandate
A California school board president cursed at a parent who expressed concerns over mask and vaccine mandates during a public meeting Tuesday. Parent Lauren Roupoli joined other parents at the Los Alamitos Unified School District where she repeated misinformation about adopting mask and vaccine mandates.
​​She told the board she is against the California mask mandate for students and will be against all future vaccine mandates. Roupoli asked the board not to support either measure.
After Roupoli spoke, Board President Marlys Davidson told her the allotted time for comments was over. Then, according to public video of the meeting, Davidson called up the next parent. Roupoli ended her remarks, and Davidson mumbled "fuck you," which was picked up by her mic. It appeared Davidson did not realize her microphone was on.
Attendees of the meeting, who had been applauding Roupoli as she made her comments, didn't react. Neither did the board. The comment was met with silence.
The board meeting took place as California takes steps to require all students be vaccinated against COVID-19. As part of that process, state officials have revoked more than 180 medical exemptions granted to families for other required school vaccinations since the beginning of the year.
The California Department of Public Health told The San Francisco Chronicle that the waivers were submitted to a state database by the families and physicians of children entering kindergarten or seventh grade, a new school or child care in the 2021-22 academic year.
The Chronicle made the conclusion that some California families turned to like-minded doctors to inappropriately excuse their children from required shots after the state stopped the ability to opt out six years ago.
The California Department of Public Health released a 92-page list of doctors who had been disciplined due to circumvention of the vaccination rules. The list was made available to school districts in June, and allowed local officials to determine which of the issued medical exemptions were no longer valid and to alert the students' families.
Mandatory school vaccinations have been in the news since Gov. Gavin Newsom announced he would require all California students to get the COVID-19 shot once it receives full federal approval for their age group.
KTLA-NBC Los Angeles reports Board President Davidson has since apologized.
"When members of the public address the Board of Education, they must be heard with respect," Davidson said in a statement. "I reaffirm my commitment to serve our community with dignity and integrity, and I hope they will accept my sincere apology," the statement concluded.