I'm A 'Crunchy' Mom Who Vaccinates Her Kid. Here's Why.
by Grace Chen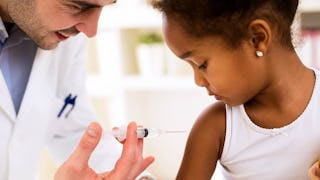 didesign021 / Getty
My toddler is starting to sniffle and feels hot to touch. Something is brewing. I think, "Time to get the elderberry syrup." I am a crunchy mom. Here's a glimpse of my crunchy life:
– Essential oils
– WaterWipes
– Breastfeeding a toddler
– Flame retardant-free car seat
– Zero-VOC paint
– Organic food when possible
– Bradley method
– Childbirth with a doula, no pain meds, no epidural
– … and countless other examples
Not that these are best, but they are choices I have personally made. I don't like toxins or risking unnecessary harm for my child or my family. And I am 100% for vaccination. How can this be?
Let's talk about some of the vaccine ingredients that people may fear.
Aluminum: It is naturally found in plants, food, and water. In the first 6 months of life, infants get more aluminum from their diet (7 mg if breastfed, 38 mg in formula, 116 mg in soy formula) than they do from vaccines (4.4 mg aluminum). After vaccines are injected, the amount of aluminum detectable in an infant's blood does not change.
Formaldehyde: In humans, formaldehyde is a natural byproduct in the process of making protein and DNA. The total amount of formaldehyde naturally found in a typical 2-month-old's circulation is about 1.1 mg, which is about 1,500 times more than the amount in any baby vaccine.
Thimerosal: It has been removed from nearly all vaccines except some flu vaccines. Thimerosal-free (preservative-free) flu shots are available. Thimerosal has no link to autism. Other than occasional allergic reactions, there is no known health risk from thimerosal in the amount used in vaccines — but it is being phased out, just in case.
Polysorbate 80: It has been used for many years to make ice cream smooth and to slow melting. A 1/2 cup of ice cream may contain about 170,000 micrograms of polysorbate 80, compared to only 50 micrograms in each dose of the HPV vaccine — too little to do harm.
For other concerns or ingredients, please see the links at the bottom of this post, including this source and this source.
How about vaccine injury? True vaccine injuries (such as anaphylactic reactions) are very rare. For every 1 million vaccine doses eligible for compensation for possible vaccine injury, the court compensated one injury victim. Receiving a vaccine is orders of magnitude less dangerous than staying unvaccinated.
What about vaccines causing food allergies or asthma? A study of over 600 babies with different formulations of DTaP — and another study of over 5,000 patients with multiple childhood vaccines — both found NO link between vaccines and food allergies or asthma.
Vaccination can provoke (but also prevent!) febrile seizures. Febrile seizures can occur in up to 5% of toddlers who become feverish for any reason. These seizures are most common after MMR or the combined MMR-chickenpox vaccine, occurring in up to 300 of every million children vaccinated (which equals 0.03%). Typically lasting 1-2 minutes, the seizures can be frightening to see. But they are transient and almost always without lasting effects.
We must always consider risks vs. benefits. Most of us haven't seen how horrific vaccine-preventable illnesses can be — so vaccination may not seem worth it.
– We haven't seen the pain of our very sick toddler being admitted to the ICU for measles (recently happened in Houston).
– We haven't seen our children suffering the violent, uncontrollable coughing of whooping cough, a disease that can kill our babies.
– We haven't seen our baby having an actual stroke because of chicken pox from unvaccinated siblings (recently happened near Seattle). If we actually saw these illnesses first-hand, we'd probably do whatever we could to protect our children from them.
The benefits of vaccination in preventing serious (deadly/handicapping) illnesses outweigh the minimal risks. Other examples:
– Mumps can lead to meningitis or future infertility.
– Rubella during pregnancy can produce babies with birth defects and intellectual disability.
– In the 2017-18 flu season, 180 children died from the flu (most were unvaccinated). The flu is especially deadly in children, pregnant women, older adults, and people with chronic conditions.
Also, when you decide not to vaccinate your family, you can harm others around you. That preemie. That baby who's too young to get vaccines. That kid who has cancer. That stranger whose immune system is weak. To protect the vulnerable, herd immunity only works if a high enough % of the population is vaccinated.
I care about children and their families. I care about suffering. I care about avoiding unnecessary exposure to risky things like harmful chemicals and harmful diseases. This is why I support vaccination.
If you are skeptical about vaccines, talk to your doctor or pediatrician — or space out some vaccinations if that makes you feel more comfortable. But please, think and do your research before you refuse vaccinations because of a health blog/mom friend/website/Facebook. Any random person can make unsupported claims about toxins, autism, vaccine injury, etc. Pay attention to where your information is coming from.
For additional information, this children's hospital website is a detailed resource: https://www.chop.edu/centers-programs/vaccine-education-center/vaccine-safety
And if you are looking for more information on the risks, benefits and safety, broken down by type of vaccine, click here…https://www.chop.edu/centers-programs/vaccine-education-center/vaccine-details
This article was originally published on