Going On Day Dates With My Husband Might Be The Biggest Preschool Perk Ever
by Amanda Regas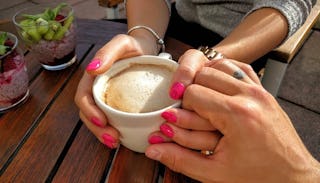 Pixabay
My husband and I went on a day date today, which is like a night date without the alcohol or babysitters. And when I say "without the alcohol," I mean that I drank a Mexican Mule at lunch, so there was absolutely alcohol. The menu included handcrafted cocktails and I felt compelled in the moment to start intentionally supporting people pursuing the art of being hand-crafty. Since my lunchtime alcohol consumption was done with intention and conviction, there is zero room for judgment, only for commendation. Plus, no food with the word "Mexican" in front of it can ever go wrong. Unless it does, and then the results are straight-up catastrophic.
We were on this day date because we realize we have to make changes. Our lives have come to revolve around things like work, work travel, elementary school schedules, our children's activities, daily chores, and paying $300 for a vet to wrap a plastic cone around our dog's head. I feel at times like we are checking off a list rather than truly living life. And I know if we continue this pattern it will become hard to remember what we loved about each other in the first place. And also hard to remember what we like about ourselves. And what we like about our expensive, cone-sporting dog. Not really, he's always my favorite. At any rate, we know this pattern cannot continue.
We have reached a place of transition. Our littlest went off to kindergarten this year and our oldest, while still very much a kid, is pretty self-sufficient. Moving into this new place has been exciting, and to be honest, a bit of a relief. So many things can be enjoyed with ease now because everyone goes to the bathroom on their own, everyone gets in and out of the car on their own, everyone knows to sneak snacks out of the pantry on their own, saving me from the dreaded role of Healthy Snack Patrol Officer. But this transition has revealed some cracks in our marriage and has placed some of the spotlight back on ourselves as individuals.
Resurfacing are all the things we put on the back-burner while we learned to stop sleeping and start juggling babies, then toddlers and then preschoolers. We are both coming out of a fog and remembering we are not just parents. Rather, we are people with individual preferences and beliefs — some alike and some that differ and conflict. We are a bit uncertain about what kind of people we will be in this phase of life, and as we navigate this stuff personally, we absolutely must remember we are partners in it all. And I am so thankful for that. Basically, what I am saying is that this is not complicated at all.
We are making little changes. We are carving out time for each other. We are doing crazy things like asking each other questions that don't involve carpool or the Disney Channel. It felt so good to laugh and be outside of the heaviness of daily responsibilities. When you are in the mundane of everyday life, sometimes you are unable to realize that you need to step out and take time away to simply have fun.
Someday these kids will be gone and off at college, angelically adhering to all rules of social decorum while wearing loose-fitting frocks that cover all their areas. They will be earnestly working toward locking down medical degrees, so they can star in my humblebrag Christmas cards. Obviously, we all know that scenario is a little ridiculous. I will never be able to pull off sending Christmas cards.
When that time comes, it will be awkward for my husband and I to stand in sports complexes watching the volleyball games of random children, so we need to keep building this relationship now so that as our kids grow up, our relationship does too. I really like these kids living with us, but when they venture out into the world, so will we.
The truth is I need my husband. No one else automatically rolls the car window down after someone sneezes knowing I have a 7th-grade science movie graphically depicting a sneeze permanently ingrained into my brain. And he's the kind of heroic soul who can work a French press in the early morning hours, a time in which I can only lie and weep at the feet of our Keurig and the heavy weight of its demands.
Does he whistle in the morning? Yes, and it makes me want to die. But he also brings me the good French-pressed coffee in bed. And he's taught our kids to be whistle-y in the morning too. This will serve them better than what I offer, which is a front-row seat as I eek through the stages of grief, finally landing at acceptance that it is morning.
I share this because I know these struggles are true for all of us. And things like social media damage our perceptions of what is real in even our closest friends' lives. I am not posting pictures of my kids hating what I cooked for dinner (again), or me loudly loading the dishwasher to ensure my family is aware of my righteous indignation. Nor will I post pictures of my husband scratching his head in frustration (side note: my husband's hair has been falling out steadily for 16 years now, which is weird because I have been the calming presence that has graced his life for the past 16 years). Plus it would be inappropriate for us to do that anyway. The best we can do is keep in mind that everyone has their crap and that news feeds are full of highlight reels and masked dysfunction. Except for you, yours is perfect, and I love it.
I cannot tie this up in a pretty little bow because marriage is a work in progress. Just know that as you live real life today, I am too, and it is not all pictures of my kids being cute as social media may suggest. Sometimes it is just plain messy. And sometimes it is my dog looking like a plastic cone birthed his head.
This article was originally published on