The 10 Best Dishwasher Detergents to Make Dirty Dishes a Thing of the Past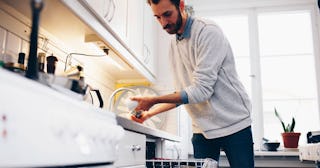 Maskot/Getty
If there's one thing you can count on at home, it's that somehow, somewhere, there's always a dirty dish lying around. Even the best cleaning hacks can't solve for the fact that as soon as you do a load of pots and pans or messy toddler plates, you turn around, and like magic, more have reappeared. It's a never-ending challenge to see the bottom of the sink, so thank goodness for dishwashers. Of course, you'll need one of the best dishwasher detergents to really get the job done, because the last thing you want is to run a cycle and then pull out something that still has breakfast or dinner caked on it, only to have to clean it yet again.
You likely spend time every day wrangling countless plates, bottles, or bowls into your dishwasher like an unexciting jigsaw puzzle. Fortunately, if you get a reliable dish detergent that works just as hard as you do, you'll have sparkling clean dishes after each load. If natural products are a priority for you, look for detergents that are plant-based or that come with a "free and clear" seal. For ultra-powerful cleansers that can tackle your greasiest pans, look for a detergent boasting several different cleaning functions (think: scrubbing and degreasing).
Ahead are 10 of the best dishwasher detergents and pods (which can make things even easier — just toss and go) to help you tackle at least one household chore on your list. If only they could unload the dishwasher for you too.
Best Dishwasher Detergents
Best Dishwasher Pods
For more ways to help keep your house clean(er), check out our other Home & Kitchen picks.