This Nursing Home Is Also A College Dorm -- And It's The Best Idea, Ever
by Jerriann Sullivan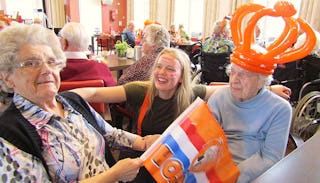 Image via Facebook.
Dutch nursing home reducing negative effects of aging with student housing program
A Dutch nursing home has a genius program that allows college students to live rent-free in exchange for time spent with the elderly residents. The amazing idea (that should be implemented everywhere) is an attempt to reduce some of the unfavorable aspects of senior living.
RELATED: How Much Does Assisted Living Cost? Get The Bottom Line
The program started two years ago when student Onno Selbach contacted the nursing home, Humanitas, because he was frustrated that his school's housing was too loud and poorly maintained. Now students live at the nursing home in small, rent-free apartments in exchange for a minimum of 30 hours a month of acting as "good neighbors", according to PBS NewsHour. So what falls under the "good neighbors" category? A lot of fun and easy stuff including watching sports, celebrating birthdays, playing games, and just being there when an elderly resident is sick. All of the activities – especially the last one – help keep feelings of loneliness to a minimum. "The students bring the outside world in, there is lots of warmth in the contact," shared Gea Sijpkes, who runs the Netherlands nursing home.
The bonding created from spending time together is incredibly important for everyone. "Social relationships are central to human well-being and are critically involved in the maintenance of health," researchers for the National Academy of Sciences of the United States of America wrote in a 2012 report. More importantly, the researchers found that social isolation and loneliness are associated with increased mortality in older men and women.
Simply put, we live longer and feel better when we have a social circle. At the Dutch nursing home, that circle includes six students and about 160 seniors. The college kids can come and go as they please as long as they don't disturb their elders. So it's unlikely they're hosting keg parties, but we know a few grandmas that would totally support it. Overall, that one rule – don't be annoying to your neighbors – isn't hard to follow since most of the seniors are hard of hearing, the head of the nursing home told reporters.
How great is that? Students who want to save some money can donate their time and help community members as they age. With U.S. students taking out crippling amounts of student loan debt just to complete a four-year degree a similar program would be a huge hit here. U.S. students paid an average of $10,389 for room and board during the 2015-2016 school year, according to an annual survey by U.S. News. The almost $11k covers a shared room and the maximum meal plan at the college.
I'd rather play cards with Betty in room 301-A than shell out thousands of dollars every year. I would've stood in line for hours to be part of this type of program in college. Instead, I took the bus, worked full-time jobs and still had to take out student loans. A program similar to the one at the Dutch nursing home exists in Cleveland, Ohio, according to the International Association of Homes and Services for the Aging. But how great would it be if every college and university offered this to students? Many of us would have preferred to take out less in loans in exchange for some extra time getting to know our older community members.
This article was originally published on