The 10 Best Family-Friendly Trader Joe's Items, According To Nutritionists
Step away from the Chocolate Lava Cakes (we know, we know... it feels impossible).
Written by Sharon Feiereisen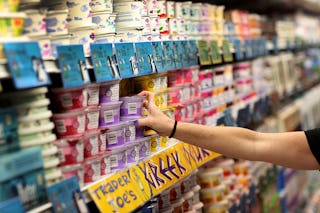 Joe Raedle/Getty Images
We may receive a portion of sales if you purchase a product through a link in this article.
Trader Joe's is a unicorn; no matter your taste buds, income, or where you live, odds are you'll find something to love and proudly tote around your brown paper (or fabric) Trader Joe's bag. Unfortunately, that "something to love" can often come with a major dose of sugar or an equally monstrous load of sodium.
I'm the first to say I failed in the no sugar/no salt before two departments. Once my second was born, I'd find myself in toddler yoga feeding the baby with one hand while handing my toddler a mini box of animal cookies with the other. But everything in moderation, aye?
In the end, we can all only do our best — but there's no denying that preparation is the key to optimization.
"If you're not prepared, it's easy to turn to sugary snacks like granola bars or frozen treats (hello Chocolate Lava Cakes), which are made from processed ingredients and are high in sugar. These cause a blood sugar spike, followed by a crash that leaves you exhausted and that triggers the release of cortisol," say registered dieticians and founders of The Nutrition Twins, Tammy Lakatos Shames, RD, and Lyssie Lakatos, RD. "Those energy dips spell trouble when the kids get home from school or when they get crabby because it feels like it should be nap time for you too, and it's hard to stabilize your mood when your energy has plummeted."
Instead, as a rule of thumb, The Nutrition Twins suggest focusing on the fresh produce and meats offered by the popular chain. "They're nutrient-dense choices, and the produce will help kids, pregnant and busy moms to meet their fiber, antioxidant, vitamin, and mineral requirements, while fresh meats will help them meet their protein needs and vitamin requirements."
Low-fat and non-fat dairy items are also good options for meals and snacks since they're a great source of protein and calcium. "The organic Greek yogurt or cheese sticks combined with fruit make for a satisfying, nutrient-dense snack for kids and adults."
But let's get more specific.
Here's a look at over a dozen food options to throw in your cart next time you're at Trader Joe's, according to nutritionists.
A few runners-up? The nutritionists also recommend:
TJ's Organic Super Bread: "I love that it's generously loaded with pumpkin, flax, and sunflower seeds as well as carrots and dried apples. Two slices provide 240 calories, five grams of fiber, and nine grams of protein with only one gram of added sugar," says Largeman-Roth.
TJ's Organic Grilled Chicken Breast with Rib Meat: "Moms can toss them on top of a salad, in a pasta dish, in a stir-fry, or in a kid's sandwich or wrap," recommend the Nutrition Twins. "And, unlike many prepared slices of chicken breast, they're not loaded with preservatives."
TJ's Organic Roasted Baby Golden Beet Wedges: "These beets are an easy way to get folate, fiber, vitamin C, and nitrates, which the body converts to nitric oxide, helping improve circulation and lowering blood pressure. This is an added bonus during pregnancy, to help prevent preeclampsia," say the Nutrition Twins.
TJ's Hi-Protein Veggie Burger: The Nutrition Twins love these because they pack a whopping 25 grams of plant protein.