Gabrielle Union's Birth Announcement Shows How Moms Bond With Babies Born Via Surrogacy
by Cassandra Stone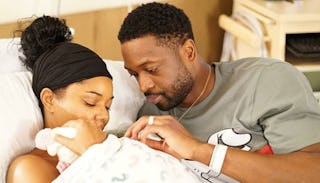 Image via Instagram/Gabrielle Union
Here's why Gabrielle Union is in a hospital gown following the birth of her daughter, born via surrogacy
Actress Gabrielle Union and husband Dwayne Wade became parents to a baby girl two days ago, according to an incredibly sweet birth announcement the actress is sharing on her Instagram page. The couple's "miracle baby" was born via surrogate, according to the post. The images show Union and Wade in a hospital bed, cradling their new bundle of joy.
"We are sleepless and delirious but so excited to share that our miracle baby arrived last night via surrogate and 11/7 will forever be etched in our hearts as the most loveliest of all the lovely days," Union captioned the emotional photos.
Union has been candid in the past about her struggles with infertility and miscarriage. "For three years, my body has been a prisoner of trying to get pregnant — I've either been about to go into an IVF cycle, in the middle of an IVF cycle, or coming out of an IVF cycle," she wrote in her book We're Going to Need More Wine. "I have had eight or nine miscarriages."
Which just makes the birth of her new baby girl that much sweeter. Many people have curiously commented as to why Union is pictured in a hospital bed and gown of her own, even though the baby was born via surrogate.
Here's why: bonding. She is that baby's mother, and the skin-to-skin connection is just as vital to non-birth moms as it is to mothers who deliver their own children.
According to Surrogate.com, the moments following the physical transfer of the baby from the surrogate mother to the intended parent is one of the best ways to promote attachment. "Following the physical transfer of the baby, you should strive for as much skin-on-skin contact as possible," the site says. "Intended mothers may even consider breastfeeding their surrogate-born baby as one way to be physically close and connected."
Skin-to-skin contact for intended parents, like Union and Wade, is even more crucial following a surrogate birth. Skin-to-skin promotes calm, content behavior because newborns learn how to mirror their parents' breathing patterns. Overall, prolonged skin-to-skin interaction has been shown to lead to babies and toddlers with less separation anxiety and better self-regulation over time.
Union says being a stepmother to Wade's three sons and nephew is what made her realize she wanted children of her own. "I never wanted kids," she told PEOPLE magazine back in 2017. "Then I became a stepmom, and there was no place I'd rather be than with them."