19 Perfect Gifts For Kids Going Off To College
Useful finds your student will actually want to pack.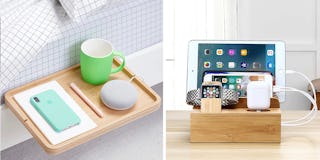 If you're overwhelmed by all the stuff involved in sending kids off to college —choosing what to purchase, packing it all, hoping they'll use everything at least once before the dorm dustbunnies claim the goods as their own — you're not alone. Finding gifts for college students that they'll actually end up using can be tricky.
So we've compiled a list of the best gifts for college students that help solve day-to-day problems, from electronics organization to keeping the coffee budget under control. While most, if not all, of the things listed below can be found at higher price points, we've also prioritized affordability because the last thing your kid needs is a blanket so expensive they're afraid to stain it with their late-night snacks.
Check out the list below to find 19 gifts for college students that they'll actually use to have a successful first semester.
We only include products that have been independently selected by Scary Mommy's editorial team. However, we may receive a portion of sales if you purchase a product through a link in this article.
The best gifts for college students are things that make life easier without taking up too much space. Choose one of the 19 gifts on this list and you can feel confident your present won't be "forgotten" in the closet at home once the car is all packed up. What a win-win for everyone.