Here's What I've Learned About Supporting Someone After A School Shooting
The sad, awful reality is that gun violence could affect someone you love. Here's what to do — and what not to do.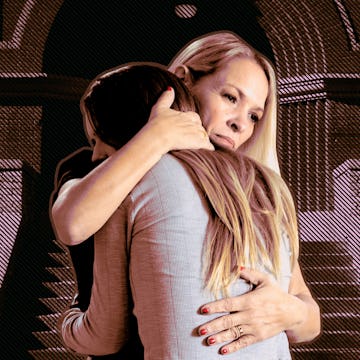 Ariela Basson/Scary Mommy; Getty Images
I was a teenager when the shooting happened at Columbine High School. I remember thinking it was a horrible, one-time event. For years that felt true. I was a teacher in the early 2000s and we did lockdown drills, but only because we worried that neighborhood violence might get too close to classrooms. Back then, I never thought a mass school shooting would happen again.
Of course, that wasn't the case. When Sandy Hook happened ten years ago, I was running a school with a toddler at home and a baby on the way. That shooting shook me to my core. So did Parkland, five years ago. Like many, I was outraged and wanted to do anything and everything to make the shootings stop. And I felt like an alarm was set for whenever a school shooting would finally reach my family.
That alarm went off a few months ago. On October 24, my godson survived a shooting at his high school, sustaining gun wounds to his hands and face. The shooter carried an AR-15 and 600 rounds of ammunition. Even though teachers and students were wounded and killed that day, the shooting barely made national news.
That's because we no longer live in the Columbine era. In America, school shootings happen all the time. Since 2018, the annual number of school shootings in the US has more than doubled. Last year, there were more than 300 incidents, even though the average school year is only 180 days. As of July, guns are the number one killer of kids in the US.
While the statistical risk of a school shooting happening in your town and to your kids remains low, it is quickly rising. So is the likelihood someone you love will be directly impacted. This means you must consider the horrible, terrible, God-awful reality that one day you may need to support someone as they reel from this type of tragedy.
When my godson was shot, I got a swift and awful education on what survivors and their families need in these moments. Based on my experience, and the stories I've heard from survivors and their family members across the country, I offer these do's and don'ts for how to show support to a loved one who has been affected by a school shooting:
1. Do find out what happened from others. Follow the news and check with people other than those who were impacted.
2. Don't share "tragedy porn." The press kept broadcasting the most salacious details of the shooting, including pictures of hurt children, busted windows, and more. Those articles and videos were shared with us and posted on social media. Be sensitive to what those affected are ready to see, and what might be further traumatizing.
3. Do bring food. Like other tragic events, it's hard to find energy to cook or get food. We were grateful to those who showed up to the hospital and house with nourishing meals we could enjoy.
4. Don't expect to stay. A school shooting is hard to talk about, especially right after it happens. If you are dropping off food, schoolwork, or anything else, don't plan on staying. Instead, send a text when you are on the way and make the offer to stay, but only if it will be helpful. Otherwise plan to drop and go.
5. Do send money. If a GoFundMe has been set up, donate. If you know your loved one's Venmo or CashApp, send money. Direct cash helps because immediate expenses (e.g., gas, food, coffee) and long-term costs (e.g., medical bills, therapy) are unknown and overwhelming.
6. Don't gossip about how the money should be spent. My godson's GoFundMe went viral and we ended up with way more money than expected. As the dollar amount went up, so did people's opinions about whether our family deserved the money and how it should be spent. It was hugely hurtful and short-sighted.
7. Do check in. Send messages to your loved one to tell them you are thinking about them. Base your note on level of closeness. If you are already close and talk regularly, ask them how they are doing, and how everything is going. If you are an acquaintance, limit your outreach to a quick "thinking of you" text or social media comment, then donate or do something to show you care.
8. Don't expect a response. After the shooting, we had more people reach out than we could respond to. It was hard to keep track, and I still worry that someone did or said something wonderful that I never acknowledged or thanked them for. Engaging in conversations and text exchanges takes energy and time that your loved one may not have.
9. Do reach out weeks and months after the shooting. We're all busy and it's easy to forget a traumatic event happened, even one as awful as a school shooting. Set calendar reminders to check-in with your loved one in a few weeks and months. The world and news cycle will move on quickly, but the survivor and their family will still be dealing with and healing from the shooting. Today, I want people to ask how my godson and family are doing, and I'm finally ready to talk about what happened.
10. Do step up to fight, even if gun violence has never touched your life directly. Let's make this a how-to- guide you will never, ever need. Join a local advocacy group, sit on your school safety committee, or donate. Survivors are often the loudest voices calling for an end to gun violence. It's an unfair burden to carry, and one they should never bear alone.
I hope you never need this article. I also think you might. As a mom of school-aged kids, I worried about these shootings before. Now, I worry even more. We cannot promise our kids or loved ones this will never happen to them. Until that day (which we should work towards) we need to be ready to respond in case it does.
Stephanie Malia Krauss is a mom, educator, and social worker. Her book "Whole Child, Whole Life: 10 Ways to Help Kids Live, Learn, and Thrive" will be released on May 23. She is author of "Making It: What Today's Kids Need for Tomorrow's World." To learn more about Stephanie, go to stephaniemaliakrauss.com.