New Dad Shines In Hilarious 'Maternity' Photo Shoot
by Jerriann Sullivan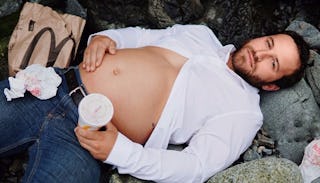 Image via Stephen Cwiok
'I thought that our friends might think they were funny … not the whole world'
A new dad from Boston, Massachusetts might have a career in modeling now that the hilarious paternity photo shoot he did is going viral.
RELATED: The Most Gorgeous (And Most Importantly, Comfortable) Maternity Photoshoot Dresses
"I'm honestly mind blown that it has gotten this big," Nick Roberts told Scary Mommy. "When we first posted them I thought that our friends might think they were funny … not the whole world." The photos have already been shared more than 89,000 times. Roberts and his long-time friend Stephen Cwiok schemed up the idea as a surprise for Robert's girlfriend.
"My girlfriend and I found out we were going to have a baby. So one day my buddy Stephen came to me with the joking idea of doing a maternity shoot…featuring me," Roberts explained on Facebook. "We rolled it around for a while, then decided it was best to go with it." While the photos are just now being shared with the world, the guys actually shot them months ago. "This was actually done in the summertime," Cwiok told Scary Mommy. "It was meant to be a surprise for Nick's girlfriend, which it was."
RELATED: Maternity Photoshoot Ideas For Gorgeous Photos Everyone Will Fall In Love With
"We printed the pictures, put them in a photo album, set it down on a table at their gender reveal party and watched as people discovered it," Cwiok shared. The best part is Roberts' girlfriend loved the idea. "My girlfriend thinks they are hilarious," he told us. Cwiok can also attest to her excitement. "His girlfriend's reaction to the photos was just as priceless, but she also didn't seem too surprised at the idea that Nick would do something like this," the photographer explained. "He's probably the funniest guy I know."
So how did Roberts nail the pregnant daddy poses so well? One word: McDonald's. "I felt it was only right to at least try to look a little pregnant, so we grabbed some McDonald's and off we were," he said. "If I'm completely honest, the setting, the occasion, the awful cramps from the double cheeseburgers, it all brought me so much closer to the pregnancy."
If you're thinking of creating your own paternity photo shoot, these guys will tell you to go for it. "Shooting the photos was easily one of the funniest experiences of my life," Cwiok reported. "Nick is an old buddy of mine and watching him absolutely nail the model-face was killing me!" And of course, it gave the new dad (his baby boy was born last month) an idea of what moms go through when they're carrying a baby.
"Now, I'll never know what being in labor feels like, but I feel in my heart it can't be too far away from eating A LOT of fast food," Roberts said. "I'm truly blessed to have had this eye-opening experience."
This article was originally published on