The Homework Gap: The Sad Reason Some Kids Aren't Doing Their Homework
by Melissa L. Fenton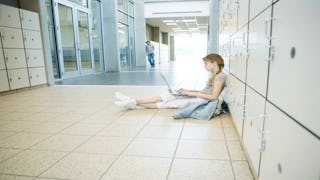 Laurence Mouton / Getty Images
About 5 million school-aged children currently live in households without internet service , and low-income homes with children are four times more likely to not have internet at home than their middle- or upper-income counterparts. And this is having a serious impact on their education.
As early as first grade, students may be given homework that not only requires internet access, but often their class textbooks are only available to them in digital format — which makes home internet a necessity just to be able to keep up with day-to-day schoolwork. As a result, we have something new to add to the sea of inequities facing our country's schoolchildren — the "homework gap."
The homework gap refers to all the barriers to academic success that children whose homes lack basic internet ultimately face. And it's that lack of internet access that leads to a host of potential problems for low-income and at-risk students, thus widening the academic achievement gap even more. In a nutshell, homework assignments no longer only require pen and paper; they now require broadband.
The digital divide and homework gap grows bigger each year, as more and more schools continue to implement a technology-based curriculum dependent on students and families having internet to do schoolwork, communicate with teachers, and receive and complete assignments. About 7 out of 10 teachers now assign homework which requires broadband, and over half of school principals now cite digital inequity as the new major challenge their students face.
We're also seeing many high schools go completely paperless and 100% digital, issuing Google Chromebooks to each student, with students required to use the school's learning management software portal to find, complete, and upload all assignments, and even take all of their classroom quizzes, tests, and final exams. More than 30 million students currently use Google education apps, Google Classroom, and other online work and project-sharing apps, and it's now the norm for parents to rely on online grading and report card portals to stay abreast of their child's school progress.
These startling statistics don't even begin to paint a clear picture of what the homework gap is doing to internet-less families. Just to complete basic homework assignments, these parents and children are often spending their evenings driving around their communities seeking free WiFi zones, and/or sitting in parking lots of closed libraries, coffee shops, or other spaces with WiFi access just to get their work done.
And it's not just the ability to receive and upload homework assignments that's impacted either. Oliver Unaka — the public information officer at California's Pomona School District, a district that has recently partnered with Sprint to provide hotspots to its low income families — notes that home internet facilitates students' learning in a multitude of ways.
"These students get online, they have chat groups, they interface with tutors, I mean they've become so resourceful in terms of learning and marshalling resources to facilitate their growing minds that the absence of that internet considerably shuts off those avenues, those portals to them and they're stuck doing it the way that I guess people did it in the dark ages," Unaka says.
Other districts are choosing to close the homework gap by leaving their schools open longer after school, and even opening up in the evenings, with the sole purpose of students being able to come and use the WiFi or the computer labs. And in one of the more creative solutions to the gap, the Coachella school district in California installed WiFi on the district's school buses to allow the ride home to become a chance for homework. They then park those WiFi-enabled buses overnight in some of the poorest neighborhoods to provide a WiFi signal throughout the night.
It's going to take creative solutions like these, as well as cooperative relationships between corporate internet service providers and local school districts, to help close the digital divide and homework gap. Since the information age is not going anywhere, it's no longer enough for our nation's schoolchildren to rely on crayons and encyclopedias to make them competitive in the fast-paced and highly technological economic environment in which we are living.
But school districts alone cannot solve this complex and multi-layered access to information issue — it is truly a community issue that needs to be addressed and solved before we see an entire generation of kids fall behind.
This article was originally published on