Houston Teacher Who Died Of COVID Spent Last Days Worried About His Students
by Kristine Cannon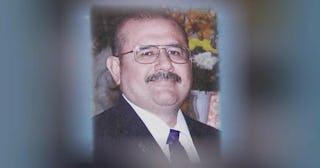 ABC13 Houston
While dying of COVID-19, Houston teacher Erick Ortiz texted his wife, concerned about his students
As the virus rages on — and as in-person classes continue to be held at many schools throughout the country — teachers and school staff continue to die of COVID-19. A New Mexico special ed teacher died at 57 in October. An Iowa teacher died in November three days after testing positive for COVID-19. Earlier this month, an El Paso first grade teacher, whose video of her students hugging each went viral in 2018, died of COVID-19 following a two-month battle with the virus. And more recently, a Houston teacher is making headlines for his death in December — notably for spending his last living moments wondering if his high school chemistry students were OK without him.
Charles H. Milby High School chemistry teacher Erick Ortiz, a father of three children who taught in the Houston area for 23 years, died of COVID-19 on Dec. 6. He had been teaching in-person class at the high school, which serves one of Houston's poorest neighborhoods. After testing positive for the virus on Nov. 8, Ortiz was hospitalized on Nov. 10. And while he was laying on a hospital bed, struggling to breathe, he found the strength to text his wife, Maria Ortiz, about his students: "Have they assigned a sub for my classes?"
Four days later, Erick was put on a ventilator; and after almost two weeks in ICU, he died.
"I don't want this to ever happen to another teacher," Maria said of her husband's passing. "They have to be protected as well."
Erick's death was, understandably, devastating to family, friends, and colleagues.
"It's been heartbreaking. This has broken the whole family," Erick's sister-in-law, Laura Heredia, told ABC 13. "He was a wonderful father, wonderful husband, a wonderful brother-in-law. He was an awesome teacher."
Last month, Heredia set up a GoFundMe to raise money for funeral expenses, and they've since raised more than $15K of their $10K goal.
"His family members … loved and admired him deeply," Heredia wrote. "Erick was a passionate teacher for the Houston ISD children for over 20 years and loved and respected God with all his heart."
According to ABC 13, Milby High School has about 1,800 students, teachers and staff. On average, 40 percent of students district-wide are doing in-person learning. The Houston Independent School District (HISD) announced on Nov. 8 that a person at the school had been diagnosed with COVID-19 but did not release the name of the person (Erick). HISD later released a statement announcing his death.
"The Houston Independent School District is deeply saddened to learn of the death of one of our beloved Milby High School teachers. We extend our sincere condolences to the teacher's family, friends, and students. Counselors have been made available for as long as they are needed, on campus and virtually, to provide support to students and staff," HISD wrote.
Erick is far from the only teacher who has died of COVID-19 since the start of the pandemic in March 2020. So far, the American Federation of Teachers, one of the largest teachers' unions, is aware of 530 school employees lost to Covid-19 last year, the New York Times reports.
"There are educators that are dying and have died from this," Daniel A. Domenech, executive director of the American Association of School Administrators, told the publication. "When that happens, that makes the situation even harder to try to convince others to move ahead."
One teacher described in-person instruction in Houston as "Russian roulette."
"He could have been me," Traci Latson, 50, a teacher at Meyerland Performing and Visual Arts Middle School, told the Times, who added that Erick's death prompted her to get her will and financial affairs in order. "Every day that I step on campus, I'm not quite sure if it's my last day."