How One Cash Back App Is Taking The Stress Out Of My Family's Summer Spending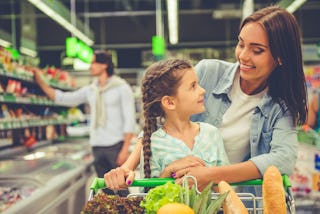 George Rudy/Shutterstock
If there's anything I'm obsessed with as a mom in summer 2022, it's saving money. Kids are beyond expensive, and with all three of mine home for three months, I would be lying if I told you our budget wasn't stretched thinner than usual. It's a tough line to tread — I want to make the most of our time together before I send them back to school, but I have to find ways to be smart and keep an eye on our spending.
Personally, I'm not a naturally thrifty person. I really have to plan and be careful with our budget so I don't overspend. And as part of the adulting process, I've learned to do just that (pause for applause!). But with multiple kids pulling me in opposite directions to increasingly pricy summer activities, I need saving to be simple. Honestly, sometimes I just want to buy what I need and then sit back and watch as some of the money I spent finds its way back into my account. Is that too much to ask?
As it turns out, it's not. I'll get cash back on most of my summer purchases by using Ibotta — a shopping platform designed to save you money by putting cash back into your account.
Using Ibotta could not be simpler. I just downloaded the app and completed the registration process. From there, I was immediately able to find the best offers and deals and easily activate them before shopping in the app.
With prices climbing on almost everything right now, saving money has never been more important to our family. We work hard for every dollar, and the more green stuff that we can keep in our pockets, the better.
But unlike that time I thought I was going to join the extreme couponing trend and briefly convinced myself that getting 15 identical bottles of salad dressing for a nickel apiece was a deal, Ibotta provides offers for items I actually need. Just this week when I was making my shopping list, I realized that I can get up to $1.50 back on Purdue Harvestland Organic Chicken, which was already on the menu because barbecue chicken is one thing every member of my family will eat without a fight.
The neighborhood kids know that when temps are soaring, our porch is the place to go for a popsicle and a break from the heat. With Ibotta, I can get up to $1 back on each box of Sour Patch Kids ice pops, plus up to $1.25 back on my kids' favorite WholeFruit strawberry bars.
Some stores even offer a cash back percentage on entire departments — I can get up to 1 percent back on things like Personal Care, Pet Supplies, Kids Apparel, and Beauty Supplies at Walmart.com, just by using Ibotta.
For a family of five that lives to eat (especially when school's out), these savings alone could finance an end-of-summer date night for my husband and me. (And trust me, after months at home with our cherubs, we're going to need it.)
All offers were valid as of publish date. Check your app for details, as offers change frequently and may not be available in all areas