I Decided To Feel Good About My Body So My Kids Will Love Theirs
I know how I speak out my body in front of my children will become their inner voice.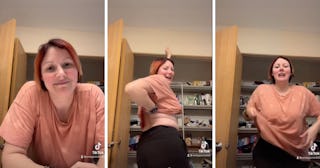 I remember the first time I cried over my body. I was 13, in the changing room, and I realized I had moved up from a size zero to a size one and I sobbed. I know, now, at 31, I am rolling my eyes at my younger self. But in that moment I felt a loss, like there was some actual value in the number, and the smaller that number the more I was worth in society, and to boys specifically. Cue more eye rolls. And I didn't even have a single social media account to compare myself to at the time, unlike kids today.
If you open any of your social media accounts right now you will find a flood of images of bodies with unrealistic expectations. Images that have been altered by filters or the like to fit the latest beauty standards and trends. Photoshop used to be reserved for models in magazines, but now even your neighbor down the street is posting filtered pictures, erasing fine lines, subtly shaping her waist, and whitening her teeth with built-in digital tools. How is anyone building a positive self image when our feeds are saturated with altered images?
But despite how hard it is, I have decided I do not have a choice: I have to love my body because I want my children to love theirs. My two kids, who are 4 and 2, will grow up amid all these unrealistic images. Teens of today are facing pressure to fit into this filtered world, and it has dire consequences on their self-esteem. I know it's somewhat cliche for a mother to find inspiration in her children, but it was my reason nonetheless. I know how I speak out my body in front of my children will become their inner voice.
I started actively praising my body when getting dressed, and when I was looking at myself in the mirror. When something no longer fits, I say, "Oh, this is too small now; I need a bigger size." I offer no adverse reaction. It is simply a fact. I need a bigger size. I answer questions honestly from my kids: "Mom, what are those marks?" I reply calmly: "Well, my skin grew fast in that spot, so to keep it from breaking, my skin had to stretch, and leaving a mark."
And I am not just doing that in my home, either. I needed to know there was somewhere on the internet where "real" bodies were being celebrated, and so I decided to create that space across my platforms on social media.
I started posting videos of myself getting dressed, showing off my stretch marks, cellulite, and saggy boobs on social media. I celebrate my squish and my rolls, and my stomach that sticks out because my abs are separated from birthing two children.
I have to be honest, sometimes I'm faking it. I still have to fight against the urge to hate my wrinkles and my gray hair coming in. Sometimes I still cringe when I see the stretch marks and back rolls. It's a process. A process of unlearning that my value lies in my appearance, that I would somehow be "better" if those things did not exist.
But I'm getting there. I have a simple rule now: If I start comparing myself to any picture on Instagram, I tell myself it's not real and I am.
I also started focusing on what my body can DO versus what it looks like. I used to think stretch marks were a failure. Ugly. I prayed not to get them when I eventually had children. Imagine my surprise when at 21, they showed up on my thighs. Not from pregnancy in fact, but by my body simply growing.
My body, four pregnancies, two children and one big attitude adjustment later, I have arrived at a place where I love my body.
It has trained and run a 5k. It has carried my soul through 11,333 days of my life. It hugs. It gives handshakes that men often comment on, shocked at their firmness. It is comforting. It dances poorly at every wedding it attends. It speaks proudly and loudly and encourages with kind words. My stretch marks came before my children — and I see them now as a victory. I'll be damned if I see them as anything other than beautiful. Growth, what a beautiful thing. And how amazing to be stretched and pulled, but never break.
Emily Feret is a content creator living near Chicago with her husband and her two children. She loves to share her "normal" filter-free life online. Across multiple platforms she celebrates the messy, chaotic, and average, by touring her imperfect house, celebrating her stretch marks and wrinkles, and sharing her struggles in motherhood. Her work has been featured in multiple publications New York Times, parents.com, motherly.com, Pop Sugar and more. You can find Emily on TikTok @Emilyjeanne333, Instagram @emilyjeanneferet, and YouTube @emilyjeanne333.