It's 'Sober October'— And It's Not Too Late To Participate
by Amber Leventry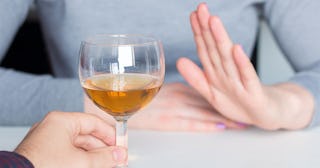 itakdalee/Getty
Sober October started in Australia as a fundraiser called Ocsober. People who challenged themselves to give up alcohol for the month set up giving pages for family and friends so that their efforts raised money for charity. The name "Sober October" caught on when U.K.-based Macmillan Cancer Support used the name for their booze-free fundraising for people with cancer. Sober October is gaining traction in the United States for both sober curious people and the companies looking to market their alcohol-free spirits and beer.
Sober October doesn't get as much attention as Dry January despite having been around for a couple of years longer, though. Dry January may be easier for folks to get on board with because it coincides with a new year and the resolutions that go with. It can also be a welcome break for people who are looking for a reason to reset after a long holiday season that provides plenty of opportunities to drink. But hitting the pause button on alcohol before Thanksgiving, Hanukkah, and Christmas can also be beneficial and set the tone for moderation during the holidays. Because there is stigma around not drinking, Sober October is a great way for people to evaluate their relationship with alcohol with a community of others choosing to be alcohol-free for the month.
The term "sober curious" is credited to Ruby Warrington who wrote the book Sober Curious: The Blissful Sleep, Greater Focus, Limitless Presence, and Deep Connection Awaiting Us All on the Other Side of Alcohol. In the book Warrington talks about alternative ways to look at the way alcohol impacts your life. While your drinking may not be an addiction, it may still affect you and your relationships negatively.
Sober October allows people to be curious about their drinking habits and why they drink in the first place. There is not a shortage of alcohol-free beverages to replace your evening cocktail or glass of wine. Adweek reports that there are at least 71 non-alcoholic brands and counting in the U.S. and U.K for people who still want the experience of making a drink or the taste of beer. Here are several ways to enjoy alcohol-free happy hour.
Mocktails
When I was first sober, I missed the ritual of making myself a drink; it helped to make mocktails. I kept it pretty simple and had limes and lemons on hand to add to seltzer or tonic water and ice. I also added cranberry juice to this and sometimes switched tonic water out for ginger ale. Dropping ice into a glass and then squeezing a lime over a drink was comforting while I struggled to stay sober. I purposefully avoided alcohol-free spirits because I didn't want to replicate the taste of what I was no longer drinking. I used mocktails to create new habits while holding onto a few rituals. But for those who do want mocktail recipes with alcohol substitutes, Ritual Zero Proof is the way to go. The female founded company offers tequila, gin, whiskey, and rum alternatives and for Sober October the company sells a discounted package. Ritual can be found online and at Whole Foods.
Lyre's also has a large selection of alcohol-free spirits, pre-mixed drinks, and recipes to add to your mocktail bar.
Alcohol-Free Wine And Champagne
If wine or bubbly is your thing, there are booze-free alternatives for that too. From cabernet sauvignon to chardonnay, there are plenty of non-alcoholic wines. BestReviews lists their top five here.
Non-Alcoholic Beer
Many established breweries offer alcohol-free beer. Budweiser, Heineken, and even PBR are easily accessible alternatives. But the company making moves into the fitness and weekend warrior spaces is Athletic Brewing Co. On the company website, founder Bill Shufelt says, "With limited non-alcoholic options (at best) to fit my new healthy, active lifestyle, I was always at a loss for a refreshing beverage that was easy to order and carried no social stigma. The only options were flavorless, watery, metallic in taste, and came with punchlines of decades-old jokes." Shufelt teamed up with John Walker and started making small batches on homebrew equipment until they got the formula right. They offer stouts, lagers, and IPAs.
Sober October is a great time to benefit from removing alcohol from your life temporarily or permanently. It's important to note, though, that there is a difference between problematic drinking and addiction. Many people who take a break from alcohol will be able to have a healthy relationship with alcohol. Moderation and mindful drinking do not work for those of us with alcohol dependency.
Also, quitting cold turkey can be dangerous if you are binge drinking most nights of the week. The Substance Abuse and Mental Health Services Administration (SAMHSA) describes this as 4 or 5 drinks at a time at least 5 days a month. Even if you are light to moderate drinker, you may experience withdrawal symptoms similar to a hangover: headache, irritability, nausea. Talk to your doctor if you're not sure if you should abruptly stop drinking.
Whether it's Sober October, Dry January, or just another booze-free night, there are plenty of options to still get the flavor and the feel of drinking your favorite beverage.