10 Of The Best Kids' Water Bottles On Amazon, Because Staying Hydrated Is A Big Deal
Our reusable picks for toddlers through high-schoolers.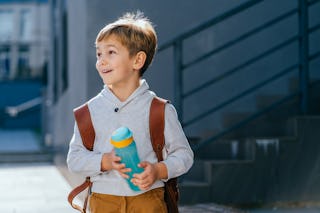 Shutterstock
One of the most surprising things about parenting for me personally has been the amount of time I've spent researching — and washing! — kids' water bottles. So, if you have a long back-to-school shopping list and want to make the best purchase possible, we've got you covered on the hydration front with 10 cool, durable kids' water bottles on Amazon.
These super-popular picks all earn praise for how durable, easy to clean, and, well, cute they are. You'll find both plastic and stainless steel options on the list, and if your kid's school requires a water bottle with a straw due to Covid regulations, you'll find plenty of good options for that, too. Some are more expensive than others — but they'll all save money and cut down on plastic waste in the long term.
We may receive a portion of sales if you purchase a product through a link in this article.
Whatever your priority in looking for kids' water bottles — size, durability, materials, ease of cleaning, or price point — something from this list of some of the best water bottles on Amazon should check your boxes. Cheers to keeping your kids hydrated this year.