I Went To My High School Reunion And Realized Just How Much Can Change In A Decade
by Stacey Skrysak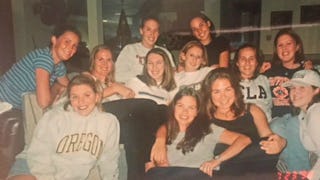 Stacey Skrysak
As I walked into the room, the atmosphere was electric. Voices and laughter drowned out the music from the DJ in the ballroom. 20 years has gone by since I walked the halls of high school, yet seeing familiar faces instantly brought me back to my childhood. And little did I know that one night of reminiscing over the good old days would teach me so many valuable life lessons.
Surreal. That's the best way to describe my 20-year high school reunion. It's been two decades since I called San Diego my home. Nerves and excitement consumed me as I entered the hotel. I scanned the room, and within seconds, I recognized dozens of my classmates. No one seems to age in California! The women all looked the same, the men too, although some lacked in the hair follicle department (sorry guys!).
What I quickly realized is the difference 10 years makes. At our last high school reunion, we were young, making our mark on this world. It was the first time many of us had seen each other since graduating high school. We wanted to impress our peers as we tried to prove our successes in the real world.
Fast forward a decade and life looks completely different. We are all nearing 40 years old and we're settled into our lives. Some of us are married with children, others have traveled the world. Some of us have experienced tragedy, like the devastating loss of a child. And all of us have lost classmates, the heartbreaking reality of suicide.
As I made the rounds at my reunion, I felt as if I was in a dream. I laughed with elementary school classmates, some I haven't seen in nearly 30 years. I squealed like a child as I spotted old friends I was eager to catch up with. And even though social media helps us stay connected from afar, that face-to-face interaction is priceless. Making the 2,000 mile trip back home was well worth it.
I went into this night not sure of what to expect, but I left with a resounding sense of pride. The high school years are filled with angst and insecurity. It's a period in life when you are trying to figure out who you are, or simply trying to fit in with others. There are cliques, and gossip, and there is plenty of stress. But here's the thing: none of that matters decades later. It doesn't matter whether you were popular or had straight A's. It doesn't matter if you were the star athlete or a book nerd.
20 years later, none of that matters. Success isn't measured by the car that you drive or how much money you make. It isn't measured by your job title. Success is what holds real meaning in your life—your happiness, your family and relationships. Success is living fully and making a difference, all while being true to yourself. It's something I wish I'd known when I was in the throes of the teenage years.
As I said my goodbyes, I took one last look at this group. I left that night feeling nostalgic and inspired. Unlike those teenage years, I had nothing to prove. I wasn't looking for acceptance; instead, I was looking to reminisce and reconnect. We may have a few more wrinkles and our conversations now center around children, chin hairs and anti-aging creams, but deep down we are the same.
There's something special about your childhood friends. You can pick right up where you left off, even if it's been 5, 10 or 20 years. It may be another decade before we're all together again, but I'm grateful for the lifelong friendships I made as a child. I'll see you all in 10 years, eager to hear where life takes us next.
This article was originally published on