What I've Learned Since My Husband Confessed To Having An Affair
by Jessica Brush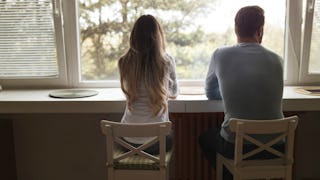 nd3000/Getty
365 days ago, I was in bed about to go to sleep when my husband walked to my side of the bed and told me he had a confession to make. He put his hand on my leg, and told me he had been intimate with another woman.
This news came without warning. There was not any lipstick on his clothing or perfume or any of the stereotypical stuff one would expect to see when something of this nature has happened. I was hit with nausea, and a wave of pain in my heart that was so intense that I still tear up when I think about it in the present moment. He detailed what had happened between them, and afterwards I took our pictures off of our bedroom wall and tore them up. I took down our ceremonial marriage certificate and destroyed it also. I was overcome with grief and anger.
I did not understand how a man who I had trusted so much and so completely would throw away the dreams we had made together and the family we had created. He told me he never cared for her, but that revelation left me more confused and more hurt. I remember thinking about our daughters, and my heart broke again contemplating how this news would change the course of our life and our future.
I cried more over the coming days and weeks than I had in years. I felt as though I was processing a death instead of infidelity, which is truly what the loss of trust feels like. I remember sobbing in my gynecologist's office as I was tested for STIs as though it were yesterday. I felt humiliated, and cried from relief when I received the call that my health status was okay a week later.
However, I will not forget how my physician tried to comfort me that day in the doctor's office. They told me that I would not be the last woman to come in that week due to the same circumstances, and that they see this "sort of thing" quite often. My heart broke for all of the men and women who would be dealing with the same fears, insecurities, questions about self-worth, and confusion that I was processing. I felt jaded in love and with society, because we had always promised to tell each other if we ever had feelings or wanted to move on with another person.
The coming days were challenging and the months that followed were even more difficult. The last year has been a whirlwind of emotion, transformation, struggle, and change. Here are some things that I have realized over the course of the last year:
1. There is clarity in the storm.
In the midst of the intense pain I experienced the first few days after his confession, I realized I had lost myself in the relationship. I could not remember who I had been or what my dreams were before we had married and started a family. I realized that, regardless of our future as a couple, I needed to get to know myself again. I felt like I had become a shadow of my former self over the course of our marriage, and needed to focus on bringing myself back to a good place before I could truly determine what would happen in our relationship.
2. There will always be more questions than answers.
I have searched for answers to what went wrong in our marriage and wondered if there was more going on with my former spouse and the woman he cheated on me with. I have also asked myself countless questions in my efforts toward self-discovery. He and I have quizzed and continue to quiz each other off and on as we process our grief, heartache, and loss. I know that I may never have a full picture or a clear idea of what has happened along the way, and I am slowly starting to come to terms with that reality. I have also realized that there are some situations where there is simply not an answer, but a disjointed series of choices, circumstances, and situations along the way which became too much for us to bear over time.
3. The road to forgiveness is not easy.
I did not leave my husband immediately after he confessed. I stayed for a few months to see if he would change some of the behaviors which we felt contributed to the infidelity, and in many ways, he did change. He temporarily quit his place of employment where the infidelity occurred, and focused on working on the house we were building together. However, when I thought about the changes I witnessed, I wondered about whether the cost to him was worth it. I knew in my heart that he was passionate about his former career and I spent many nights wondering if asking him to leave that industry was the right thing for me to do. I worried whether or not the changes I did see would fade if he felt secure in the fact I was not leaving.
There was so much uncertainty and stress during the remainder of our time together. Our relationship was extremely rocky, volatile, and eventually went to a place that was not healthy for either of us. Eventually, I came to him and told him that I wanted to move forward with a divorce, and I know that this request shattered his dreams and broke his heart.
We are still trying to move past the complex layers of hurt and damage to find forgiveness for each other in the wake of all that has transpired over the last 12 months. There are days when I wonder if we will ever be able to forgive each other and move forward peacefully as co-parents to our children. Forgiveness does not happen overnight, a week later, a month later, or even a year later. It is a multilayered choice that will probably take us years to overcome.
4. There will be situations and memories that trigger you.
There have been plenty of nights when I have had dreams where my ex and I are still married and everything in the dream feels peaceful and like it was in the beginning of our relationship. When I wake from these dreams, I always feel like I am being hit in the gut all over again. The path between then and now seems like a blurry haze of memories that ripple over you in waves from time to time. My ex will mention things or make comments to me that trigger the unresolved feelings of hurt and damage that still lingers between us. My first instinct is to snip back an icy reply even though I know that this will only create more tension. I am still working on finding a place of peace before I talk with my ex, and I am learning each day to see him (and also myself) as a good person navigating complicated waters.
5. You will make mistakes.
I have made many mistakes and poor judgment calls over the past 12 months. I have tried to fill the emotional void caused by the end of our marriage with hobbies and even another relationship. However, I have seen firsthand that there is no cure-all solution and that it is okay to be flawed in the midst of the chaos. It is okay to be confused and it is okay to not have all of the answers or know the best route to take in your situation. I have learned fully that every choice has consequences, and it is okay to make a few detours on the way to finding a path that serves you more fully.
6. Seeing your former spouse move on will be harder than expected.
My ex has a new relationship and new lover, and in all transparency I still feel a prickle of irritation and the feelings of hurt in the wake of our separation bubble back to the surface when I see her car in his driveway. It is not her fault, but seeing your former spouse treat someone else with the care that you once longed for does sting. They do not have the years of complex history that he and I had together, and from the outside in, it looks light and fun. I know that these prickles of anger and resentment will fade over time for both of us and I have hope that we can find genuine happiness for each other as we watch our former spouse find love and peace again.
7. Looking forward is a choice.
I have spent a lot of time analyzing the last 6 years, and looking to the past for an answer to ease the burdens in the present moment. There are times when I feel like if I could just pinpoint the key moment where everything went wrong, I will somehow be able to find immediate peace. However, the sun has set on our relationship and the dust is settling on all that was and has been. I am making a conscious effort each day to focus on the future.
There are days that I decide not to follow this path, and I have to reorient myself toward lies ahead for me as a woman and a mother and I am looking forward to new beginnings.
This article was originally published on