Medical Kidnapping — When A Misdiagnosis Causes Kids To Be Taken Away From Parents
by Elisha Beach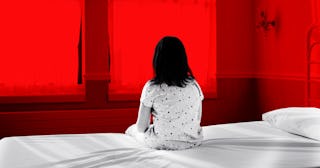 Scary Mommy and x C. Lyttle/Getty
Imagine your child is sick or injured and in need of medical care. The first thing most parents would do is get their child to a hospital immediately. Now imagine the medical professionals you believed were there to help accuse you of abuse or neglect and take custody of your child. This is what is known as medical kidnapping, and unfortunately, it isn't an anomaly.
Recently, the story of Syesha Mercado has hit social media, bringing medical kidnapping into the limelight. Over the past six months, the mother of two has found herself in a battle for custody for her now 19-month-old son and her infant daughter with child protective services of Manatee County. And one would think that Syesha had to have done something terrible for her children to be taken away from her… but unfortunately, that is not the case.
Syesha's story begins with a challenge a lot of breastfeeding mothers face. She was trying to wean her then 13-month old son from breastfeeding due to her pregnancy, and he was refusing to take in other fluids. On February 26th, after seeing three different medical professionals (including a lactation consultant), she brought him to Johns Hopkins All Children's Hospital in St. Petersburg, Florida, because she was still concerned about his fluid intake.
The next morning, a CPS investigator visited Syesha and coerced her into signing a document stating she would not leave the hospital until the staff determined it was okay for her to go. Over almost a two week period, she worked with hospital staff and social services to provide her son with the care recommended by the hospital to improve his fluid levels.
On March 11th, the hospital claims she refused a B12 shot, and she was accused of medical neglect. Her son was taken from her by social services and placed in foster care. Months later, not two weeks after giving birth, social services took custody of her 10-day-old baby girl.
What is Medical Kidnapping?
Medical kidnapping happens when a child is taken to the hospital for an injury, a psychological problem, or an ailment, and the doctors and parents disagree over the medical care the child should receive. The hospital can work with the Department of Social Services to obtain legal custody of your child and the authority to make medical decisions for your child without your consent.
The child is then placed in foster care by the state. They may or may not be placed with relatives or friends of the family, and there is a possibility that the parents may not even be granted visitation rights. And parents are then faced with a custody battle with the state to get their kids back.
Many states and counties have specific policies pertaining to such a situation.
According to policy stated by Los Angeles County's Department Of Child And Family Services (DCFS), a "medical hold" can be put into place when "the parent refuses to authorize treatment of an emergency medical condition that requires immediate treatment for the alleviation of severe pain or an immediate diagnosis and treatment of an unforeseeable medical, surgical, dental, or other remedial condition or contagious disease which if not immediately diagnosed and treated would likely lead to serious disability or death or continue to suffer severe pain, in the time it would take to get a warrant."
Other instances that social services may step in are when it is believed the child's medical condition was caused by parents, guardians, caretakers, or a member of the household. Also, if it is believed that the parent may remove the child from the hospital against medical advice, the child is due to be released to an accused perpetrator, or the parent is unable or unwilling to protect the child from the perpetrator.
Other Medical Kidnappings
And Syesha's story is one of many. Josue Santiago was jailed for more than a year and a half before prosecutors dropped the case due to the medical examiner determining that his child's death was "most likely" caused by a congenital bleeding disorder. Beata Kowalski was accused of Munchausen syndrome by proxy, a rare disorder in which a parent fakes a child's illness for sympathy or gain, although her daughter's health continued to decline once they were separated. Beata died by suicide after being denied access to her child.
Ann Marie and Tim Timmerman spent seven months battling accusations of child abuse against Tim, claiming he shook his son, Tristan. Ann Marie gained custody of their son after a pediatrician and child neurologist found Tristan developed "a very small venous blood clot that caused a seizure." After bringing their then-five-month-old son to the emergency room after falling from a lawn chair, Melissa and Dillion Bright lost custody of their two children for over a year. Texas child welfare authorities closed the case after the investigation "found no evidence that the parents abused their children."
Could you even imagine the heartbreak? No loving parent ever dreams that taking a child to the hospital for care could possibly result in their child being taken away from them. But the sad story is it does happen to caring, innocent parents more often than you think. Several families have had to face this same battle, and yes, it can happen to you.
Who Determines If There Is A Medical Reason To Remove A Child From Their Parents' Custody?
Multidisciplinary child protection teams usually decide to obtain custody of a child and are now at almost every major children's hospital in the country. The team is usually led by a board-certified pediatric physician in child abuse pediatrics (also known as a child abuse pediatrician or child abuse specialist). And the team can include additional Physicians, Registered nurses, Physician extenders such as nurse practitioners, and hospital social workers. And hospital teams also work with agencies that include Child Protective Services, Assistant District Attorneys and attorneys for CPS, law enforcement, victim advocates, mental health professionals.
The sad truth is that these multidisciplinary teams are needed in hospitals to help protect abused children. And yes, they have been effective at identifying child abuse or neglect that may have been overlooked. However, the system is flawed, and sometimes innocent parents get separated from their children due to holes in the system.
Child abuse pediatricians are brought in when a child is a suspected victim of abuse. However, they are not required to identify themselves as such or inform parents they are being investigated for child abuse or neglect. And the assessments they make can be highly subjective yet cases referred to by medical professionals are much more likely to be substantiated.
So what can be done to prevent child abuse misdiagnoses? Clearly, that is a complicated question that doesn't have one answer. But the fact is doctors are human and make mistakes and stronger safeguards need to be put in place to protect innocent parents and children from experiencing medical kidnapping because of a medical misdiagnosis.
This article was originally published on