8 Awesome Memory Games Made Especially For Kids
Sharpen those minds before the season's over.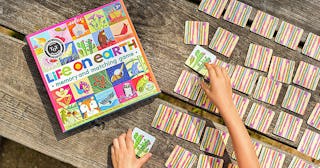 Amazon
We may receive a portion of sales if you purchase a product through a link in this article.
Memory games for kids may be the perfect way to sneak in a little educational fun at home. Kids are like little sponges and seem to remember everything (especially the things you don't want them to), so what better way to get their brain churning than with a kid's memory game? It's a great way to channel that skill productively and keep them entertained at the same time. Memory games can be beneficial for kids' developing brains, help improve their concentration, and be a fun way for your family to spend some quality time together. And while there's a time and place for epic water battles or backyard ninja courses, sometimes it's nice to have a (relatively) quiet indoor activity that focuses on thinking. Ahead are eight of the best memory games for kids to keep their minds — and yours — sharp.
Best Memory Games for Kids
No doubt your little one has seen their fair share of Disney movies (and likely has one that they've played on repeat at least 57 times), so let them play this game with all their favorite Disney characters while also improving their focus and memory skills. There are 72 tiles, and the game comes in different versions, including Disney Princesses, Disney Classic, Frozen II, Marvel, Toy Story 4, and more. It's appropriate for kids ages three and up, and scored an impressive overall score of 4.8 out of five stars on Amazon.
One Reviewer Wrote: "My 3-year-old grandson loves this game. Nice pictures on the cards and they are good and stiff so he can't tear them." — Sandra T.
For kids with short attention spans (AKA all kids), this fun pack includes six different games so they won't get bored. The games are designed for ages three and up and include classics you'll be familiar with from your childhood, such as Memory, Go Fish, Old Maid, Crazy Eights, Slap Jack, and Matching. Each game has been designed to last just 15 minutes or less, so it's an especially good pack if you're pressed for time.
One Reviewer Wrote: "I bought this to try and help keep my daughter off the iPad. She loves playing theses games and she is learning while having fun without even realizing it. It's helped us do more together as a family. Definitely worth it!" — Amazon Customer
If your little one is a budding foodie, they'll love playing this matching game that lets them search for pairs of delicious foods such as waffles, donuts, avocados, tacos, pineapples, and more. You may want to play this one before dinner to whip up an appetite! There is also a Monsters, Animals, and Great Outdoors version, and the game can be played with kids ages three and up.
One Reviewer Wrote: "I'm a special ed teacher, and I needed games that were easy to set up, durable, and interesting. This fit all the needs! We've used [it[ heavily for three months and the pieces look great still. The kids love the images and we get to practice using words to describe the food. Loved it so much I purchased two other memory games from this seller." — Rebecca Urban
This Melissa & Doug Memory Game includes one wooden board and seven two-sided cards, which decreases the likelihood you'll find random memory cards scattered all over your house. The cards have fun themes like colors, shapes, vehicles, and more. Players take turns opening doors to match pairs, and they can keep track of points on the board as well. The game is designed for kids ages 5-7 years old.
One Reviewer Wrote: "Provides hours of entertainment. Perfect for long road trips. Great quality and sturdy. Love the variety of cards. Cards are double-sided with pictures rearranged to mix up the placement so that you can't memorize them. So far my daughter's favorite thing to play with on our long car ride. Love providing her with a brain exercise to keep her busy instead of watching a show on the iPad!" — Amazon Customer
These lucky ducks are both cute and educational. Place 12 little ducks on the pond-shaped game unit, and watch your kids try to match ducks (you put stickers of colored shapes on the bottom of each) to the colored shape they've chosen, while the ducks quack and swim around. The game requires batteries and is made for 2-4 players, ages three and up.
One Reviewer Wrote: "We bought this for our great-niece because our son used to love to play it. I am so glad to see that they still make it. It's a quick game that will hold the child's attention while teaching them about colors, shapes, and turn-taking. I highly recommend it!" — Amazon Customer
Let your kids learn about different plants and animals while they play and improve their memory. This matching game has cards for things like lemurs, hermit crabs, thistles, chameleons, and more (24 pairs in total). It's perfect for kids ages three and up. Bonus: the game is also sustainably sourced, as it's made with 90 percent recycled materials and printed with vegetable-based inks.
One Reviewer Wrote: "My kids really enjoy this game. The pictures are adorable with vivid colors. A nice range of animals and plants depicted, that often leads to questions and discussions about nature." — KD
Help your little ones learn and practice their ABCs, and recognize both lowercase and capital letters, the building blocks to reading. This matching game has colorful cards for each letter of the alphabet, as well as an image that reflects that letter. The game is for kids three and up, and there's also a math and spelling version if you want to practice additional skills.
One Reviewer Wrote: "We are very pleased with the quality of this game as well as the clear letters. Our Grandson plays it for hours and has learned his upper and lower case letters through this." Sandy T.
Dinosaur lovers, rejoice. This wooden match memory game is great for kids who also want to learn more about dinos. Especially great for preschoolers, this set includes 24 pieces and comes with a couple tattoo stickers to really make their day. Not only does the wood make these pieces look impressive, but they're also waterproof, in case spills come your way (which... they often do.)
One Reviewer Wrote: "Bought it for 2-year-old grandson that loves dinosaurs. He can identify each species and had fun trying to do the memory game part of it. Very colorful graphics and the pieces are durable and large enough not to be a choking hazard for his 1-year-old sister." — Amazon Customer
Looking for more ways to stimulate little minds through play? Check out other Toys for all ages.
This article was originally published on