I Tried The Viral Makeup Brand Every Mom Needs
There is no easier way to do 5-minute makeup.
by Morgan Flaherty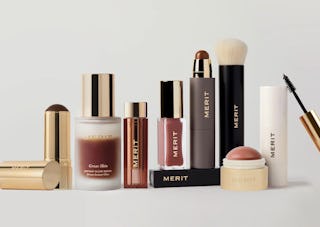 We may receive a portion of sales if you purchase a product through a link in this article.
There were a lot of things I had to say goodbye to the moment my daughter was born. The ability to wear white shirts without insta-stains? No more. Free time to binge-watch a season of a show in one sitting? See ya. But one of the things I was most sad to give up was the ability to take my time with a makeup routine. Pre-kid, this was my zen time — a leisurely pattern that would ease me into whatever the day brought me. I didn't need a full face, by any means, but just a little help to hide the fact that I had a baby and thus no longer knew what sleep was.
Around this joyful time, a lot of targeted ads popped up for me (slip-on shoes, hair loss supplements, the works), which is how I got introduced to Merit Beauty. The brand was developed by Who What Wear founder Katherine Power while she was pregnant and looking to create a curated "minimalist" brand with clean ingredients. One 30-second clip watching her do her makeup later, I was sold.
While many of those targeted ads did not perform as expected (that supplement was no match for postpartum hair loss), Merit Beauty ended up being the answer to my new makeup routine. Yes, the concept of a "five-minute routine" may induce an eye roll, but in the case of this brand, it actually worked — and they have devoted fans to prove it.
Each product comes in a tube or stick form, meaning you can throw it in your bag and apply it on the go. Everything is buildable and looks super natural on your face, so you can build it up or tone it down depending on the look you're going for. There are five products, in particular, I swear by from the brand.
For years, I have been a tinted serum or moisturizer kind of girl, so the idea of a cream complexion product was… questionable. After years of overspending on beauty products, I'm rarely stunned, but the results from The Minimalist Perfecting Complexion Stick shocked me.
You won't get a full coverage look that hides blemishes or age spots but, when applied over a moisturizer or their Great Skin Glow Serum, your skin looks more even and awake. I swipe a few lines on my forehead, cheeks, and chin, and blend in with a brush — it literally takes 30 seconds.
All these years later, I still don't know what TF to do with contouring, but I am here for looking like I was in the sun when I very much wasn't. The Bronze Balm is foolproof — it's sheer and can be built up, so you just need to swipe it on and pat it in with your fingers. It will also last you forever because you need so little.
For whatever reason, I grew up obsessed with blush more than any other makeup. Maybe it's because it's the only makeup my mom ever wore, or it's just what makes me feel most "awake." With that in mind, I'm a hard judge, but the Flush Balm is fantastic. It's a sheer formula like the bronzer, so it's hard to overdo it. My favorite part, though, is the packaging. It's super small, so it fits perfectly in your bag to use while you're out. I'll fully admit to using a swipe or two in the car before going out (by which I mean going into Trader Joe's). My favorite shade is the peachy Beverly Hills.
My dry lips require a moisturizing lip product, so I usually opt for a tinted lip balm. The problem with those is that they last on your lips for about 10 minutes. I love the Tinted Lip Oil because it actually gives you color along with moisturizing. The shade Marrakech is a personal favorite and pairs perfectly with the Flush Balm in Beverly Hills.
Listen, I can't speak for everyone, but when I became a new mom, I was overwhelmed with constant choices and decisions to make. So, for me, the idea of a minimalist makeup line that didn't require too much thought, time, or effort was a no-brainer. Clearly, created by a mom.