In A World Filled With Insecurities And Mom Cliques, Be A Welcoming Person Like Amy
by Christie Cuthbert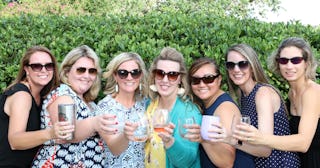 Courtesy of Christie Cuthbert
When I moved to San Antonio two years ago, I didn't know a soul.
After nine years in Chicago raising babies, I was terrified to start all over again and leave behind an amazing mom tribe I had formed over the years.
Starting from scratch socially in a new city is very much like dating. You meet people through the PTA or the neighborhood and begin to sort through the layers of friendship like an onion, making decisions along the way as to whether someone is the right fit for your life.
During my first year in San Antonio, I met Amy at a PTA meeting.
We engaged in the typical small talk and pleasantries at school pick-ups. Our relationship was surface level, like so many female friendships in the beginning.
But that following summer, our kids were on the same swim team, and as we sat there night after night, I watched her constantly scan the pool area, making sure every mom in attendance had someone to sit and talk with.
"Barbara, what are you doing over there all by yourself, girl?" she said to a mom hanging solo toward the back of the patio. "Come join us! Everyone, this is Barbara—her son is going into second grade at our school."
She would do this every single night, making sure every person felt welcomed and included. It was inspiring.
Amy is truly the most inclusive person I've ever met. She'll start up conversations with the table next to us at a painting event. She finds friends in the bathroom at restaurants and brings them back to the table for a drink to meet us all.
Many articles about motherhood discuss inclusivity. Some women feel left out, others long to join a certain play date or be invited on a girls' trip. In many ways, the social cues and playground politics of our childhoods never fully go away. Like so many, Amy experienced major bullying as a girl, but instead of letting her fear of rejection weaken her, she chose to better herself and the lives of others.
"Second grade was a very rough year for me," she said. "I got held back for reading, and I fell and knocked out my front tooth. The people who were once my friends were suddenly calling me dumb and making fun of the way I looked. It was the first time I really felt like I didn't belong."
Her experience stayed with her for many years and presented many insecurities, but the summer before going into high school, she moved schools and decided to make a move within herself as well.
"I got a break from all those people who knew me, and I just thought, Now is my chance to rewrite my story," she said. "And in doing so, I'm also going to put myself out there so that others never have to feel the way I once did."
Her inclusive spirit has continued into motherhood, and she said the key to finding your people is to try different things and find what sticks.
"When my daughter was young, we were signed up for a playgroup, dance, and swim lessons," she said. "I tried out everything, and it turned out that the swim families were our people. Friendships should be easy, and if you have to work hard to be in a friendship, it's not worth it."
While Amy still has some insecurities like most women, she is always mindful that everyone else is carrying around something too. And as most of the country starts back up at school, we moms are busy teaching our kids to be kind when they meet new classmates. It's the perfect opportunity for moms do practice what they preach.
"You know the best way to start up a new friendship? Introduce yourself with a big smile," she said. "You have to remember that just a smile on your face can ease someone else's anxieties about trying to put themselves out there."
This article was originally published on