Mom Warns Parents About The Dangers Of Trampolines For Toddlers
by Jerriann Sullivan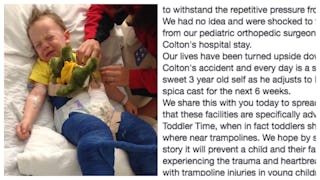 Trampolines result in 91,750 emergency room visits per year
After her toddler was severely injured, one mom is speaking out about the potential dangers of trampolines so other families can avoid a terrifying experience. Trampolines are a favorite American activity, and their popularity has skyrocketed with the invention of indoor trampoline parks. But pediatricians will be the first to tell you that hours of bouncy fun aren't good for little ones.
Kait Ellen found that out after her 3-year-old son Colton fell and broke his femur at an indoor bounce house. The mom of two took to Facebook to share the story. "As hard as it is to relive the past 12 days, we feel compelled to make other parents aware of the danger associated with indoor trampoline parks. Colton fell and broke his femur, the strongest bone in his body, while innocently jumping alongside his dad and I," Ellen wrote. "We were not bouncing in the same square as Colton when the injury occurred. We were in the squares right next to him."
The family had been enjoying a day of fun when their little boy suffered the devastating injury. Colton was put in a hip spica cast, which he will have to wear for at least six weeks. "Our lives have been turned upside down since Colton's accident and every day is a struggle for his sweet 3-year-old self as he adjusts," his mom shared. You can see the pain the little guy is experienced in the heart-wrenching photo his mom included in her post.
While dealing with the traumatic accident, Ellen found out that doctors do not recommend kids play on trampolines. "Come to find out, according to the America Academy of Pediatrics and the America Academy of Orthopedic Surgeons 'children under the age of 6 should never use a trampoline.'" Ellen explained in her post that's gone viral. "This is due to the fact that their fragile bones are not meant to withstand the repetitive pressure from jumping," she added. "We had no idea and were shocked to find this out from our pediatric orthopedic surgeon during Colton's hospital stay." And it's not just young kids that doctors want to avoid the bounceable toys, but all kids in general. The American Academy of Pediatrics – an organization of 66,000 pediatricians – has a policy that is "against children's recreational trampoline use, but states that if they are used, safety measures should include constant adult supervision, adequate protective padding, one jumper per trampoline at [a] time, and avoidance of flips/somersaults."
The AAP has come out against trampolines for one simple reason: too many injuries. A study titled "Trampoline Park and HomeTrampoline Injuries" published last year in Pediatrics found that emergency room visits because of trampoline injuries in the United States jumped from 581 in 2010 to 6,932 in 2014. Colton's mom hopes that speaking out about her experience will help more parents become aware of the startling statistics. "We share this with you today to spread awareness that these facilities are specifically advertising for Toddler Time, when in fact toddlers should be no where near trampolines," she said. "We hope by sharing his story, it will prevent a child and their family from experiencing the trauma and heartbreak associated with trampoline injuries in young children."
This article was originally published on