Almost A Million 5-11 Year Olds Have Gotten The Covid Vaccine Already
by Kristina Johnson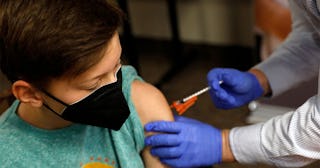 JEFF KOWALSKY/Getty
The vaccine rollout for 5 to 11 year olds is off to a brisk start
A week after Pfizer's COVID vaccine was granted emergency use authorization for 5 to 11 year olds — more than 900,000 of them have already gotten their first dose. It's a positive start to the vaccine rollout in an age group that's seen a high percentage of infections ever since kids returned to classrooms at the start of the school year.
In addition to the number of kids already vaxxed, there are another 700,000 appointments scheduled at pharmacy chains like Walgreens and CVS for the coming days — meaning the brisk pace of child vaccinations will continue. A White House source told NPR that that figure doesn't include appointments made at other types of vaccines sites, so the final number will be even higher.
Those numbers are certainly encouraging, but there's obviously still a long way to go. A full 28 million kids became newly eligible for the vaccine when the age was lowered to 5, which means that 97% the new group still need jabs. The White House has said for weeks that it's already purchased enough to doses to make it available for every child who signs up for one, and now the focus turns to convincing more and more parents to actually do so.
President Biden hailed the vaccine's authorization last week as "a giant step forward to further accelerate our path out of this pandemic." He also called it "a day of relief and celebration" for moms and dads all over the country who have been waiting and worrying since March 2020.
First Lady Dr. Jill Biden is also embarking on a nationwide tour to promote the vaccine. One of her first stops was a Virginia school that made history in the 1950s, when more than 100 of its student became the first to receive the polio vaccine. Dr. Biden told parents, students, and teachers that the vaccine is hands down the best way to protect kids against Covid-19.
"It's been thoroughly reviewed and rigorously tested. It's safe. It's free, and it's available for every child in this country," she said.
For parents who may still be on the fence about getting their kids vaccinated, the safety and efficacy of the shots can't be repeated enough. Clinical trials found the Pfizer vaccine more than 90% effective at preventing symptomatic COVID, and an FDA review of more than 3,000 vaccinated kids found the shots were safe. And there's another number moms and dads may consider when weighing whether to vaccinate their kids: the 94 children ages 5 to 11 who have died of the virus since the pandemic began.
With cold and flu season ramping up and holiday gatherings around the corner — this is the ideal time to get your kid protected. They'll be a lot safer and it will help stop spread to vulnerable populations (like grandparents and siblings and cousins under the age of 5).