A Powerful PSA Sheds Light On The Beauty Of Adopting Teens
by Sarah Bregel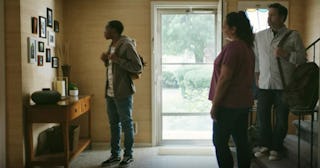 YouTube
The new PSA highlights an adopted teen's experience being accepted into his forever family
Adoption can be a beautiful way to build a family. However, teens have lower rates of adoption and tend to remain in the foster care system for much longer. Many people who want to start a family choose to adopt babies or very small children. Older kids and teens can be passed by, even though they are every bit as in need of loving families. But a new PSA from the Ad Council is shedding light on just how amazing it can be to adopt a teen. The best part? It's based on a true story.
The story is of a teenager named Jason who is adopted by a couple. They have two older children already in their family. In the beginning of the clip, we see the parents bring Jason to his new home and show him his new room. It's a bit sad and uncomfortable. It's clear the boy feels out of place, especially when he notices a picture hanging on the wall of the family as a unit which he is not a part of just yet. He feels like an outsider looking in.
Then, there's a clear shift. The boy starts playing games with his adoptive siblings. We see him smiling and settling into the family over dinner and ice cream. Then he notices a new framed photo on the wall and in this photo, he is present. At the end of the clip, he gives his adoptive mother a heartfelt hug. It's a real tear-jerker. Seriously, try not to cry.
It's a truly touching ad, especially because we know these true stories unfold all the time. The caption from the video reads: "There are over 123,000 children in the U.S. foster care system currently waiting to be adopted. But teens have lower adoption rates and often wait twice as long to be adopted as younger children. No matter our age, we never outgrow the need for a loving and supportive family. This PSA reminds prospective parents that they will not always be the ones who will be doing the teaching. Adopted teens can help their parents grow in ways they never imagined, giving families a completely new set of moments to look forward to. After all, when it comes to parenthood — you can't imagine the reward."
There are other ads as part of the campaign, too.
It's wonderful to see the focus in these ads being placed on making sure that older children are adopted. Hopefully, it will inspire those who are considering adoption not to overlook teens and older kids who are still looking for their forever homes. All kids deserve love and it's important to remember that families don't have to start with babies. They can start any way we choose.
You can learn more about becoming a foster parent or adopting a child at AdoptUSKids.org.
This article was originally published on