I Should Know This: Do I Need Retinol, Hyaluronic Acid, Or Both?
Both are line-smoothing essentials. But which is right for you?
Written by Loni Venti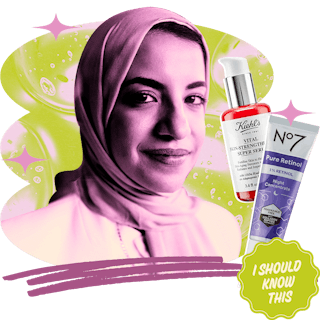 I Should Know This
We may receive a portion of sales if you purchase a product through a link in this article.
Between the 11-step routines on TikTok, the rotation of buzzy miracle ingredients, and celebs who swear they only use olive oil, youth-boosting skincare can be overwhelming and confusing. The good news? It doesn't have to be. Pinpointing the best ingredients to work for your specific skin concerns doesn't have to be complicated — and according to most skin experts, retinol and hyalouronic acid are two of the main ingredients to know. According to Dr. Ellen Marmur, founder of MMSkincare, "if you are looking for a hydration boost and anti-inflammatory, then hyaluronic acid is the right choice. If you are looking to combat wrinkles and aging, then retinol is the better choice."
But how do they work? Will the results last? Can you mix and match? Are you a hyaluronic acid person? A retinol person? We quizzed our fave derms for their expert POVs. Spoiler alert: You really can't go wrong.
First, let's talk about retinol. What is it? How does it work?
"Put simply, retinol is vitamin A," says Dr. Angelo Landriscina. "It has been used in skincare for years because of its ability to smooth the appearance of wrinkles and even out skin tone," he adds. According to Dr. Marmur, it helps with acne and enlarged pores too.
So is it magic? Kind of. "Retinol acts with receptors in the nucleus of skin cells, leading to several effects including: improved skin cell turnover, increased collagen production, and reduced collagen degradation," explains Dr. Megan O'Brien. Basically, you'll have refreshed, bouncier, smoother skin if you use retinol consistently — which, depending on your skin concerns, can mean applying it every night, every other night, or even just two times a week.
You might have heard of the buzzy prescription retinoid (an umbrella term for all vitamin A derivatives), tretinoin. You'll need to see a derm to get it, but it gives the fastest and most dramatic results. On the flip side, it can cause sensitivity, dryness, and some other side effects. If a gentler version is more your speed, there are tons of great over-the-counter retinol formulas that do the trick. "If you have sensitive skin, be cautious when introducing retinol into your skincare routine," says Dr. Marmur. That means waiting a few days in between applying retinol and using soothing products in between (also referred to as skin cycling).
And what does hyaluronic acid do for the skin?
We actually have hyaluronic acid already in our skin, but applying it via serums and moisturizers can make your complexion look extra supple. "Hyaluronic acid is a naturally occurring substance," says Dr. O'Brien. "When used topically, it draws water and moisture to the skin," she explains.
According to Dr. Landriscina, its ability to attract water results in visible plumping of the skin. "It also helps retain moisture in the skin," adds Dr. Marmur. It's referred to as a humectant, which means that it draws in moisture, sort of like a sponge soaking up water.
Aside from being used topically, it's also the main ingredient in injectable fillers. "Hyaluronic acid is used to revolumize the face and body where volume has been lost due to the aging process," Dr. O'Brien explains.
Here's one important thing to know about hyaluronic acid: contrary to what beauty advertising might claim, it's not a miracle ingredient and it's more of a skin-plumper rather than an actual moisturizing ingredient. Slathering it on will not magically erase wrinkles overnight, or suddenly fix your dry-skin problem. If you're using a hyaluronic acid serum, it's important to apply it on damp skin, and seal it in with your favorite moisturizer afterwards to reap the skin-plumping results. Otherwise, the serum can actually dry out or irritate your skin instead of boosting hydration.
Is retinol or hyaluronic acid better for wrinkles?
If you want to dramatically reduce (or prevent) fine lines and wrinkles, reach for retinol. If you want plumper, dewier skin, go for HA. If you want it all? Use both! "There is no issue with mixing these two," says Dr. Landriscina. In fact, "since retinol can be an irritant, applying a hyaluronic acid product after using retinol can help to retain moisture in the skin," adds Dr. O'Brien.
But if you had to pick just one, all of the docs voted retinol as most likely to succeed. "As far as durable change in the appearance of wrinkles, there is a wealth of evidence to support retinol," Dr. Landriscina explains. "Theoretically, HA can improve the appearance of wrinkles due to its plumping action. But this result will only last for as long as the product is still present on the skin."
"Retinol is scientifically proven to treat and prevent fine lines and wrinkles by stimulating the skin's collagen," says Dr. O'Brien. "Anyone who is interested in an anti-aging skincare regimen should incorporate something in the retinoid family," she adds. "An OTC retinol is a great place to start since it will be less irritating than prescription retinoids. Start using it every other night and over time increase to nightly use if tolerated," O'Brien advises.
That said, you can't go wrong with both. "Since retinoids have anti-aging properties and hyaluronic acid helps skin retain moisture, both are great options," says Dr. Marmur.
The 4 Best Hyaluronic Acid Products, Recommended By Dermatologists
Kiehl's Vital Skin-Strengthening Hyaluronic Acid Super Serum
A lightweight, clinically proven blend of micronized (teeny, tiny, easily-penetrable) hyaluronic acid and adaptogenic herbs that help create bouncier, glowier, healthier-looking skin.
SkinMedica HA5 Rejuvenating Hydrator
This cult-loved serum gives an instant blast of hydration now, uses time-released hyaluronic acid to help retain moisture, and smoothes texture and fine lines.
NIOD Multi-Molecular Hyaluronic Acid, $60
With 15 (!) forms of hyaluronic compounds and a peptide-charged delivery system, this very high-tech formula leaves skin plumper, more youthful-looking, and super hydrated.
Glow Recipe Plum Plump Hyaluronic Serum
Aside from looking chic on your vanity, this silky watergel blend of hylaronic acid and three antioxidant-rich plums leaves skin supple, dewy, and glowing.
The 4 Best Retinol Products, Recommended By Derms
Olay Regenerist Retinol24 MAX Facial Moisturizer, $35
This drugstore favorite does all the retinol things — brightening, smoothing, wrinkle-minimizing, firming, pore-refining — while also hydrating for 24 hours.
MMSkincare Bright & Tight Retinol Eye Cream
Retinol, caffeine, and peptides gently soothe, de-puff, brighten, and refresh the delicate undereye and laugh line area.
Naturium Retinol Complex Cream
Encapsulated retinol and plant-derived retinol team up with squalane and more to boost elasticity, smoothness, brightness, and texture — without any irritation.
No7 Pure Retinol Night Concentrate
This concentrated serum is formulated to slowly release the retinol delivery, optimize the benefits, and soothe (or prevent) any irritation it causes.
Studies:
Mukherjee, S., Date, A., Patravale, V., Korting, H. C., Roeder, A., & Weindl, G. (2006). Retinoids in the treatment of skin aging: an overview of clinical efficacy and safety. Clinical interventions in aging, 1(4), 327–348.
Leyden, J., Stein-Gold, L., & Weiss, J. (2017). Why Topical Retinoids Are Mainstay of Therapy for Acne. Dermatology and therapy, 7(3), 293–304. https://doi.org/10.1007/s13555-017-0185-2