'Riverdale' Star Breaks Down Body Dysmorphia In Viral Thread
by Thea Glassman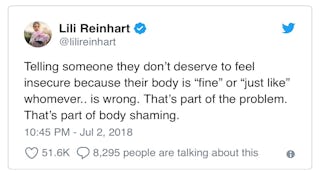 Lili Reinhart opens up about suffering from body dysmorphia
Riverdale star Lili Reinhart recently opened up to Harper's Bazaar about her body insecurities. In turn, she was hit with a whole lot of comments from people who didn't think the actress had a right to feel anxiety about her figure — because she's thin.
Reinhart responded with a very powerful Twitter thread about body dysmorphia, shame, and the danger of silence.
During her interview with Harper's Bazaar, Reinhart said: "Marilyn Monroe was a curvy girl: she had boobs and she didn't have a 24-inch waist. To me, that's really inspiring and makes me feel like my body can be accepted." One Twitter user commented that the magazine shouldn't give a platform to actresses who say they are self-conscious about their bodies, when in fact they are "industry standard."
https://twitter.com/jetpack/status/1013937246385463297
Reinhart responded that insecurities can be found in anyone, no matter what they weigh. "You're not helping the problem," she added.
The actress went on to explain that critics who minimize a person's anxieties about their bodies are actually body shammers themselves.
Reinhart added that nobody should ever feel shamed into being silent about their mental health issues.
In the thread, she opens up about having body dysmorphia. According to the Anxiety and Depression Association of America, people who have body dysmorphic disorder "think about their real or perceived flaws for hours each day." They have trouble controlling negative thoughts about their bodies to the point that they may suffer from severe emotional distress and cease to be able to fully function on a daily basis.
"I'm either not curvy enough or not skinny enough to feel insecure," Reinhart said. "…Mental illness gets worse when people say that you don't have a right to feel the way you do. That's where we are failing. Do not encourage this behavior. It is destructive."
The actress isn't holding back when it comes to discussing her mental health. Instead, she continues to speak candidly about her experiences with depression, anxiety, and panic attacks. She also has no interest in presenting a shiny, perfect facade to the world.
"I'm not that flawless image person. I could never live up to that. I'm not going to make people think I'm this airbrushed version of myself," she told Harper's Bazaar. "There are lots of versions of me. My hair looks like shit most of the time. It looks great when I'm on a carpet, sure, but that's not the only side I want people to see of myself."
This article was originally published on