11 Rules for Visiting a New Mom
by Robyn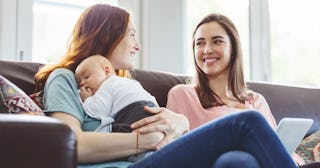 Stígur Már Karlsson/Heimsmyndir/ Getty
You know the scene: A close girlfriend has her long-awaited new baby and you feel the need to hightail it to her house to hold that little bundle of joy. In fact, it takes all of your self-control to not show up at the hospital and interrupt the precious few hours that she'll have staff doting on her around the clock. Either it's because you love that new baby smell or you think Mama is going to have hurt feelings if you don't show interest in her newest family member, but regardless, you are going to hold that baby. This is what we do as women, yes?
Au contraire, mon amie. I distinctly remember being two months into motherhood and realizing that I didn't need or want any more girlfriends stopping by and over-stimulating my colicky, sensitive child with their scary foreign faces, inappropriately loud voices, or refusal to stop bouncing him for even a few minutes. Give the baby a break from the bouncing, ladies. Do you think I want him to get used to that? No, I don't, because I'm tired and I don't want to have to bounce him myself.
I assure you that I would not have been hurt had no one come to visit me at all. Do you think I made this baby by myself? In fact, I did not. There is a man who lives here to keep me company in the evenings. During the day I was too tired, overwhelmed, and covered in spit-up to care about loneliness, and having company just meant that I'd have to squeeze my fat ass into something that didn't fit and vacuum the dog hair off the floor.
Before I became a mother I was one of those girlfriends who showed up just to hold your baby. I hereby publicly apologize to all of the new mommies that I did this to. No mother I know was sitting around, desperately waiting for me to appear at her house empty-handed and hold her baby. I am no Baby Whisperer, believe me.
There was one instance that I arrived at a girlfriend's house for no other reason than to hold her new baby and then I sat down and ate the dinner that her husband had been preparing for them. Me! I did not just have a baby! Why was I eating her food? Shameful.
Now I'm a mother and realize that if you want to hold that babe in the first four months before the yummy new baby smell wears off, then there are some rules governing that situation…
1. Bring food that you know they'll like.
This means a take-out lunch from a higher-end restaurant and bring enough food so that Daddy has something to eat when he gets home. Chicken, fish, steak, or something that fits their special diet. Don't be stingy; buy enough for leftovers. Don't make something on your own unless it actually tastes good. It's best to spend a little money and treat them to something nice since it's going to be a long, long time before they go to a restaurant again. I hate to say it, but if you can't afford to buy her a decent lunch, then you need to consider whether you can really afford to hold this baby.
2. Don't eat her food.
Does Mama have some pulled pork or a rack of short ribs simmering in the crock-pot when you arrive? Don't you dare accept any of it if she offers. She is being polite and you are not actually a guest. You are an intruder. Remember: Everything that you don't eat is leftovers for them tomorrow, so don't eat anything at all. You can have some water if you get it yourself. You need to be on high alert to recognize fake offers of food/gifts/favors and so on from this woman; she is likely out of her mind from sleep deprivation and doesn't know what she's saying, but she will still remember your greediness years later.
One of my friends left a homemade chicken casserole and fresh chocolate chip cookies at our front door and didn't even need to come inside. The hallmark of a truly excellent friend is one who will knock quietly, put the food on the front porch, then get in the car and drive away.
3. Bring a gift, even if you already gave a baby shower gift.
Ask Mama what she needs or check her registry for lingering purchases. Don't get your panties in a bunch about this one; it can be something as simple as a case of pacifiers or replacement pump pieces– things that only cost a few bucks. Nobody ever said that a gift had to be a surprise in order to be good. When in doubt, ask what diapers they use and bring those. If you buy the cheapest diapers you can find that are imported from Mexico, she'll be dealing with scratchy leaky diapers and cursing your name at 4am.
4. Snap away.
If you're a semi-pro photographer, bring your camera and your most flattering lens. Don't try to sell her the portraits later. Send them for free.
5. No summer dresses in winter.
Don't bring size-inappropriate-for-the-season clothing that suits your taste and not theirs. Babies grow fast. Use your brain.
6. Don't bring decorative kick-knacks.
As much fun as you might think it is, no mother wants you to decorate her new baby nursery. Decorating the nursery is strictly relegated to mom and dad and you can keep your over-sized stuffed animals, picture frames, and inspirational quotes out of it. Nobody wants something extra to dust around when they have a new baby. Don't make Mama waste a stamp graciously thanking you for some random thing you dug up at Tuesday Morning that she never wanted in the first place.
7. Make yourself useful.
Is your new-mother friend one of those controlling types who doesn't want anyone helping with her housework? Your friend needs to get over it because in about 8 months that baby is going to be mobile and her days of being in control of her surroundings are officially a thing of the past.
8. Do the dishes.
If the kitchen sink is full of dishes, turn on the water, rinse them off, and start loading them up in the dishwasher. Load them smart because you know how much we hate it when the dishwasher is loaded wrong. Don't halfheartedly ask Mama if maybe you can help out in some way because she's going to say no even though she means "God, yes, please someone help me for once." Just do it.
9. Or the laundry.
Look around and spy a pile of clean clothes that needs to be folded? Do you have two working hands? Fold the laundry, even the underwear.
10. Be that friend.
One of my friends not only brought food and a gift, but she called from the drugstore to see if I needed anything (indeed, I did need nursing pads for those leaky boobs no one warned me about) and started putting away all of the odds and ends that belonged in the baby's closet that I couldn't reach because of my c-section. When she asked what she could do it wasn't really a question as much as it was a statement and request for orders.
Another girlfriend came over with her husband for an afternoon. He sat in a chair and rocked the baby while she cleaned my kitchen spotless, including shining up the stainless steel of the refrigerator. What did I do? I took a bath and washed and dried my hair for the first time in a week. You know when your hair gets so dirty that the roots hurt? That was my hair. I had an entire hour to myself where I wasn't listening for the baby to cry for the first time since becoming a mother two months prior. When I tried to check on the baby in the living room she whispered, "Get out of here. He can smell your milk."
11. But not THAT friend.
I can honestly say that there were a few visitors during that time of my life who had me thinking, "I'm being held hostage by this tiny person who just threw up in my eyes and you didn't even bring me anything?" Don't be that friend. Learn from me, the reformed do-nothing baby holder. Last summer when a friend had a new baby, I brought a small gift and lunch whenever I went to see her because I knew she felt so overwhelmed. These days I don't even give birthday presents without asking Mama what the little one needs, or if my gift idea is alright with her.
If you've been a blatant do-nothing baby holder in the past, fear not. Make a mental note to buy the child a special gift for their next birthday party and rest easy knowing that at some point, your day of having vomit in your eyes will come and you will find yourself wondering what the hell these baby-holding friends are doing in your house.
Related: 10 Tips on How to be a Good Friend
This article was originally published on