Runner Spends Entire Pregnancy Training To Qualify For The Olympics
by Ashley Austrew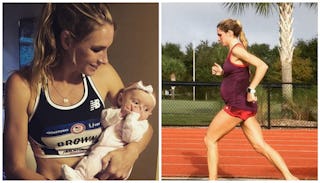 Image via Instagram
This runner got unexpectedly pregnant, and trained for the Olympic trials anyway
Yesterday, elite athletes from all over the country flocked to the U.S. Olympic Track and Field Trials in Eugene, Oregon, but one of them had an incredibly unique story that stood out from the rest. Runner Sarah Brown was there for her first competition since giving birth a mere four months ago, and she spent her entire pregnancy preparing for the race.
RELATED: What Is Sex With An IUD Like? Is Rough Sex OK? All Your Pressing Questions, Answered
Last year, 30-year-old Brown ran her fastest ever 1500-meter race, earned a lifetime best in the 800-meter, and was a shoe-in for a spot on the Olympic team. Then, in July of 2015, she discovered she was pregnant, even though she had a copper IUD.
She announced the unexpected pregnancy on her blog in September, writing, "Why would one of America's top 1500m runners decide to have a baby leading into arguably the biggest year in a track athlete's career, an Olympic year? Well, the answer is actually quite simple. I didn't. I had a copper IUD… It is over 99% effective… I think you know where this is leading. I am the less than 1%. I am pregnant."
When you get pregnant with an IUD, there's a higher risk of the pregnancy being ectopic. There's also the question of whether or not the IUD can be safely removed, as both removal and leaving it inserted can increase the risk of miscarriage. Brown's pregnancy was healthy, despite the odds, and she said that's what inspired her to go for the olympics anyway. On her blog she wrote, "As for the Olympic trials? You better believe I will still be training. I mean if the odds can be so stacked against me getting pregnant and yet I still manage to find a way, then who's to say that I can't beat the odds again?"
Since then, she's chronicled her training on both her blog and Instagram, and is even the subject of an ESPN documentary called Run Mama Run that chronicles her training throughout her third trimester. The Cut reports that, by the end of her pregnancy, Sarah was running about 40 miles per week spread over four days.
Brown gave birth to a healthy baby girl, Abigail Ann, in March. Two weeks later, she was right back to running — with her doctor's blessing, of course. Brown told The Cut people have certainly been critical of her decision to train so hard throughout her pregnancy and immediately after giving birth, but for her, it just felt like the right thing to do. "People are probably going to look at me like I'm crazy even thinking that I have a shot," she said, "but for me sitting on the sidelines would be more of a disappointment."
Brown competed yesterday and, unfortunately, did not advance to the next round. Still, that takes nothing away from what a badass she is just for working so hard in the first place. After giving birth to my kids, I just wanted to lie down and nap for six straight weeks. I can't imagine the dedication and stamina it took to keep training through nine months of pregnancy and immediately postpartum. This woman is such an inspiration.
In a post on Instagram, Brown thanked her fans for their support and said she doesn't plan on slowing down any time soon.
"Today wasn't the fairytale ending you dream about," she wrote. "But then again, this journey never really was about an ending, it's a beginning. A new chapter as a family of three. Thanks for all the support, and you can bet you will continue to see this mama run."
You can watch Brown's documentary, Run Mama Run, online at ESPN-W.
This article was originally published on