How School Group Therapy Is Helping Students
by Joanna McClanahan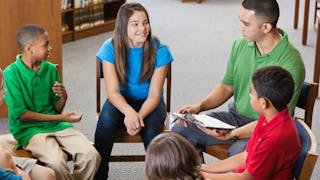 asiseeit/Getty
I've had anxiety since I was little. School was especially hard for me because I didn't know how to handle the stress of both social and academic pressures. But what if kids could learn more about managing their emotions, handling stress, and improving interpersonal relationships while they're at school?
Social and emotional learning includes developing skills like mindfulness, managing emotions, setting positive goals, developing empathy, establishing and maintaining positive relationships, and making responsible decisions. And some countries, like Canada, Australia, and the U.K., have already begun implementing these skills in schools on a large scale.
The U.S. has only implemented social and emotional learning in a small number of schools, but the demand is growing. One such program is called the Resilience Builder Program. It's a 12-week training course created by psychologist Mary Alvord, and it's a form of group therapy designed to help students who are struggling with trauma, cognitive disorders, and anxiety.
The program focuses on fifth-graders, to help prepare them for middle school, where pressures like dealing with sex or substance abuse are much stronger. It's a time that can be especially tough for kids who already struggle with social and emotional issues.
According to their website, the Resilience Builder Program includes 30 group sessions designed to help youth bounce back from the challenges in their lives by increasing confidence, self-esteem, self-control, and the use of coping strategies that focus on developing:
– Proactive orientation toward life
– Self-regulation of attention, emotions, and behavior
– Social connections and attachments
– Focus on achievements and talents
– Community ties
– Proactive parenting
The sessions encourage self-awareness, flexible thinking, and social competence. Through discussion, role-play, and hands-on learning, participants learn about self-talk, personal space awareness, problem solving, anger/anxiety management, friendship skills, and other skills necessary for social success.
They also incorporate relaxation techniques to promote stress management. These include calm breathing, visualization, progressive muscle relaxation, and yoga-inspired self-regulation. They also have homework assignments, community field trips, and a parent involvement component to help create lasting interpersonal foundations that last outside of the group.
Preliminary results have found significant improvement following participation in this 12-week therapy. For kids with ADHD, parents and teachers reported that students were more social, better able to handle their emotions, and weren't as hyperactive after the program. Parents also reported that kids with anxiety were able to control their emotions, seemed less depressed, and had improved social, emotional, and behavioral management.
Research has also shown that teaching kids social and emotional skills is effective and has a lasting impact. One analysis published last year reviewed dozens of social and emotional development programs. They found that participants were 11 percent more likely to graduate from college (and less likely to have mental health problems or be arrested) than students who didn't participate.
Whether in the form of group therapy or training, we should all be advocating to make social and emotional learning a priority for our kids in school. It's proven to be successful for the students who need it most. In the meantime, we can incorporate teaching our kids mindfulness at home.
Just as the creator of the Resilience Builder Program, Mary Alvord, told NPR, "If students can learn this kind of resilience, the ability to adapt to emotional challenges, I think the whole world gets better."
This article was originally published on