These Snow Cone Machines Are Guaranteed To Make Everyone's Summer
We only recommend products we love and that we think you will, too. We may receive a portion of sales from products purchased from this article, which was written by our Commerce team.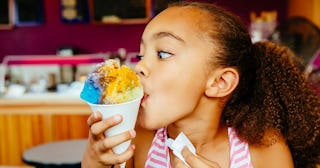 Getty Images/Inti St Clair
If you don't have a snow cone machine… we highly recommend getting one. For a pretty small upfront investment, you can own a serious crowd-pleaser that instantly makes a summer party. And not just for the kids, but the grownups too: Boozy treats are just that much better when they're slushy, right? Snowcone machines, right along with inflatable pools, laser tag sets, nerf guns, and hoverboards are some of summer's most-wanted products, and we're honestly all about entertaining the family from home these days (it's safer and cheaper!).
True story: Several years ago, I received a snow cone machine sample to try out at home. I was psyched, but my clutter-phobic husband was convinced it would take up space and never get used — and he couldn't wait to get it out of the house. But he was way wrong. (Which, means — hello — I was right, obvs.) That snow cone machine became the breakout hit of that summerAZXΩ and every one since. Ours gets tons of regular use when the weather is warm, and it still holds up great. So my PSA is this: Get a snow cone machine, crank that thing up (booze optional), and forget about adulting for a while.
Best Snow Cone Machines
Nostalgia Snow Cone Machines
Kids Snow Cone Machines
Cheap Snow Cone Machines
This article was originally published on