I Found A Coffee Pod Hack That Saves Me $150 Every Month
Thank GOD, cause I was spending far too much on my daily habit.
by Scary Mommy Team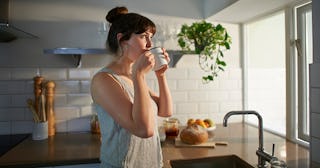 Getty Images
Hello, coffee addict here. Like any parent who is on the brink of insanity, I go through 3-5 cups a day. Maybe more, it just depends on the level of tantrums and lack of sleep. And since I drink coffee throughout the day, I prefer coffee pods, so that a carafe full of freshly brewed coffee doesn't get cold (I'm gonna be a snob and say microwaved coffee is the pits). But the problem with the coffee pods is that they're EXPENSIVE AF. Even the Donut Shop coffee pods (not even the fancy stuff!) are pricey (around $30 for 72). Dunkin' Donuts coffee pods are around $50 for 72, and while I love my Dunkin', I'm also not a millionaire.
After some digging on Amazon, I found a solution: Solimo coffee pods. They're cheaper ($26 for 100 pods) and just as delicious as any K-cup compatible brand you'll find (maybe even more delicious). My personal fave is their breakfast blend, but they also offer dark roast, French roast, Colombian roast, Kona coffee blend (so good!), and more — all at around the same price. Plus, you can subscribe and save 5-15%, which I did, because I know I'm going to be buying at least two boxes of coffee pods every month (for me and my husband — don't worry, I'm not drinking ALL of that by myself).
And if you haven't already, it's officially time to become an Amazon Prime member to save extra dough on the coffee you know you're going to need later. You'll also be able to take advantage of Amazon's other awesome deals (yas Prime Day!) for only $12.99 a month or $119 a year!
And best of all, Solimo coffee is often on sale.
They even have decaf, if that's your journey.
Currently, we're paying $26 every two weeks for our Solimo coffee pod subscription. Before, we were paying $30 for three boxes of coffee pods. That's $38 worth of savings. And it doesn't even stop there! Because Mama likes to save.
We have a Nespresso machine (thanks, in-laws!) that we almost never use because the espresso pods are so freakin' expensive ($105 for 140 capsules). But when I saw Solimo has espresso pods compatible with Nespresso Original Brewers, I figured we could finally get some use out of our Nespresso machine. It's only $13 (when you subscribe) for 50 pods, which is pretty impressive. So now I'm only spending $39 for 150 capsules versus $105.
Amazon also has a brand called Happy Belly, which is also pretty cheap and very delicious.
That's nearly $150 we're saving every month, and all I had to do was switch over to Solimo and Happy Belly. Bless the coffee gods (and Amazon).
This article was originally published on