These Asian American Women App Creators Are Changing The Face Of STEM
by Virginia Duan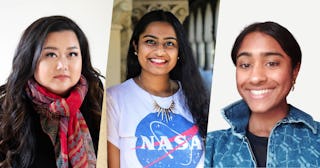 Courtesy of Annie Vang, Akshaya Dinesh and Abinaya Dinesh
In light of National STEM/STEAM Day (Nov. 8) — a day set aside to encourage and educate kids about the fields of science, technology, engineering, art, and math — we'd like to spotlight a few amazing Asian American female STEM founders. After all, when we normally think of app creators and people, we don't imagine an Asian American woman (or anyone other than a white or Asian dude) — and that's a really big problem.
That's why representation is so very important — especially on special days like National STEM/STEAM Day. Kids — regardless of gender — need to see examples of diverse people in STEAM. Whether it is to broaden our understanding of who can do what, or to help an underrepresented minority child see themselves in the future, we need to spotlight STEM leaders outside the dominant narrative.
To celebrate some of the innovators leading the way for women in technology, here are three awesome Asian American women (a kickass mom and two sisters) who can encourage and inspire us — as well as our children.
Annie Vang
Annie Vang is a daughter of Hmong immigrants and the creator of HmongPhrases (teaches you simple Hmong phrases) and Yumaholic (cookbook of Hmong recipes she featured on her YouTube channel). Vang told Scary Mommy that as a child, she had confided in a female computer teacher that she really wanted to make computer programs. But instead of encouraging Vang, her teacher told her, "Well, you're not a boy — and you're not a genius — so you wouldn't be successful at that."
Vang was crushed.
Yet, after what Vang described as years of hitting a lot of dead ends, she's now an app developer for an insurance company (their first mobile app developer) and is an independent app creator and successful YouTuber on the side.
"I had to fight super hard. Even to this day, I still feel like I'm constantly fighting for my seat at the table to make my voice heard," she said. "I'm all in because I'm doing this to provide for my son and I've never looked back."
For Vang, that meant any time her work wanted to outsource creating an app to a vendor, she would say, "I can build it for you — just give me two weeks." And that's what she did. Vang built her company's first enterprise application in two and a half weeks as proof of concept — and now, they come to her first with any app requests.
Of course, she had the experience from building her own HmongPhrases app. Ten years ago, Vang wanted to preserve the Hmong language — which is an oral language and difficult to learn from just reading a book — and realized there was no app for Hmong. And so, she made it.
Vang learned by taking classes, joining programming communities on Stack Overflow, constantly reading new programming books, and being part of Apple's Entrepreneur Camp — where Apple supports entrepreneurs from underrepresented communities. Thanks to the one on one consulting and business advice she received, Vang revamped HmongPhrases to add more features and functionality.
"Going into it, I thought, 'Oh, my app is really small — it's a really small audience,'" Vang shared. "But after hearing the stories of other women developers, I'm like, 'My app is making a difference.'"
Akshaya Dinesh
Akshaya Dinesh is the 21-year-old Indian American founder of Ladder, an online platform/app she created during the pandemic for college students and alumni to create communities of support and shared resources. Her hope for the app was to provide a space where students could find role models and ask questions of people who were 5 to 10 years ahead in their careers.
Akshaya initially found coding very frustrating and couldn't figure out why it was useful or impactful. It all changed the next year when she discovered the world of hackathons in 9th grade and attended one by herself. She bonded with her all-girl team by building a website from scratch in 24 hours, staying up really late bonding, and pitching and demoing their product. Akshaya became obsessed and would then attend over 45 hackathons where she learned how to build iOS apps, web sites, virtual reality (VR) and augmented reality (AR) products, and hardware projects.
But despite building all these products, Akshaya didn't want any of them. "I've learned the skill of how to build things," she said, "and now I really want to see the impact of it."
It wasn't until Akshaya attended Apple's 2018 Worldwide Developers Conference (WWDC) that she was finally inspired to launch some of the products she was building into the real world. Not only was she surrounded by incredible young entrepreneurs creating their own products, she also witnessed them launch the apps and get thousands of downloads.
It was that spark of entrepreneurship from WWDC that spurred Akshaya to create her app after she was sent home her sophomore year at Stanford because of COVID. She realized so many of her peers had been struggling in their careers because the pandemic caused them to lose jobs or get their internships canceled. And thus, Ladder was born.
"We started as a mentorship matching service that was literally just a couple surveys put together," said Akshaya. "Then we launched a newsletter that ended up going viral and eventually kept iterating and ended up building a larger platform to help empower the next generation to really grow in their own careers."
Abinaya Dinesh
Abinaya Dinesh, Akshaya's 16-year-old younger sister, is also an app creator in her own right. Named one of the 350 Swift Student Challenge scholarship winners, Abinaya attended the 2021 WWDC with the first iteration of her app Gastro at Home (launching soon.)
Abinaya discovered by watching her older sister that coding was a means to solve a real world problem — and when she was diagnosed with pelvic floor disorder at the start of the pandemic, her doctor didn't inform her how to get better. It was this experience of not having enough access to formal treatments or resources — or anywhere to start researching — that motivated Abinaya creating an app to help.
"The more I looked into this issue, I realized it's not just the pandemic that's removing access to these resources," Abinaya told Scary Mommy, "but a plethora of other things like not having the right insurance, being in a place geographically [without] a lot of resource centers or treatments." She recognized that financial issues, time issues and work issues all prevent people from getting the right access to medical help.
"I created Gastro at Home to be this very accessible resource hub for anybody with any gastroenterologist disease to figure out actions and steps they can take right from home with minimal technologies or other applications," explained Abinaya. This way, people can take control of their health and figure out where to go next.
Though Abinaya's interests had always skewed medical, when she understood that medicine and technology could intersect — and impact people's lives for the better — that's when she wanted to pursue this space even further. Even though the pandemic exacerbated struggles of not having the right access to people, mentors, or resources, thanks to organizations like WWDC, National Center for Women and Information Technology, and other women in STEM programs, Abinaya felt it was possible for girls like her to bridge that disconnect.
This article was originally published on