As A Teacher, I Refuse To Teach Like It's 'Business As Usual' Right Now
by Lex Gabrielle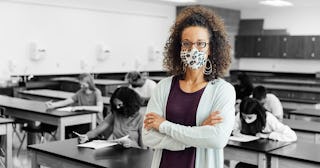 Scary Mommy and RichVintage/Getty
When you log onto social media, I feel like every other post is from either a parent complaining about the stress and struggles of remote learning or a third-party person inserting their ideologies about the current state of education and students at the given moment.
While everyone has their own thoughts, ideas, and feelings towards the current state of the world and the education system, it's hard to really, truly understand what goes on unless you're living in it first-hand—as a teacher, or a student.
It's safe to say that right now is one of the most challenging times for everyone. We're living in the middle of an ongoing global pandemic where daily, we're being told new rules and regulations to follow. New strains are appearing across bright red headlines on TV screens and online, families are trying to make ends meet and keep their lights on, and kids are just trying to understand and wrap their heads around everything we're telling and throwing at them.
I've been teaching for the last few years, but I wasn't always in the field of education. I worked in journalism for well over six years before making the switch to teaching. And, from both an outsider and insider's perspective it's simple: it's time to give kids the benefit of the doubt.
While everyday life is hard to go through, trying to maintain a sense of normalcy is hard. And, that's exactly what schools are trying to do. While many don't understand why schools are trying to do that, it's bigger than just "we need our kids to be taking exams and getting that content."
Kids are creatures of routine. That's what we do as parents early on, we establish routines. We have schedules, we have rules, we have structure. Kids need structure in order to thrive. The more they do something, the most natural it becomes. Any teacher will tell you the first few weeks of any school year is about teaching routines.
Keeping schools open, whether in person or remote, is not only about keeping students "educated," but also to keep their heads above water. Whether we want to admit it or not, having students in school or in some sense of ongoing routine helps them regain a sense of normalcy. In a world that is far from normal, allowing them that structure of attending Zoom calls with teachers and peers or even going to school a few days a week gives them some sort of comfort and support to feel and see the things can have some stability in a world that is so chaotic and unstable.
But, while we are encouraging this structure and routine in order to keep their mental health positive, their minds growing, and smiles on their faces, we also have to cut them some slack.
Many schools and administrations are trying to maintain a year of "business as usual." They want the grades, they want the deadlines, they want the testing. And, while some administrations are harder on educators than others in terms of these policies, it's really time that teachers start giving kids some flexibility.
I'm the first person to say that sometimes, kids in this generation lack "grit." They fall short on that ambition and motivation in a tech world that is always giving them everything they need at their fingertips. It's hard to have that determination to go out there and actively investigate and critically analyze the world when you can Google something and get it in less than a second. And, while I'm all for teaching grit, being a "tough-love" kind of educator because kids need to be challenged, now is NOT the year to do that.
The saying that "you never know what someone else is going through" reigns true in every classroom. We may think that we know our kids, but we truly only know what their records show us or what they allow us to see. Behind their closed doors at home, we have no idea what is happening. The pandemic has impacted everyone in several different ways. This year alone, I've had students who have contacted COVID themselves, lost parents and/or grandparents, had to uproot their lives and completely move (out of our district), have to stay home remotely totally to care for siblings, or even pick up jobs to help pay their bills at home with their families.
How can we, in good faith, expect the same work, effort, and attention from students at a time like this? The same way that we're always asking for a break, a little "wiggle room," and some patience from administrations and parents, it's time we pay that forward to our kids.
Kids are resilient, and that's 100% true, but man, they deserve some empathy as well. There is only so much that they can take before they break. And, no one wants to be that educator that causes a child to completely loathe school and the system because of how rigid they were in their practices.
My teaching pedagogy was always to create lifelong learners who are hungry to question and impact society. The only way to create that foundation is through mutual trust and respect. And, I think that looking at kids today and understanding the world around them is a hot mess, allows them to see that we, too, are human just like them. We, too, understand how hard it is to "function" in this kind of environment that is so confusing. And, we, too, want them to thrive in the way that they currently can.
So, instead of coming down on my kids when they're late on assignments, or ask for extensions, or simply need to talk about something after school hours—I'm giving my kids the benefit of the doubt. Instead of simply giving out zeroes like I'm Oprah during sweeps week, I'm reaching out to check on all of my kids and see what they're going through. I'm lending them a helping hand and getting to school early to give them the extra help they may not usually need during a normal year. I'm giving them extended time and more patience this year.
We're all struggling right now—even the youngest ones out there.