Married Texas Teachers Both Die From COVID On The Same Day
by Leah Groth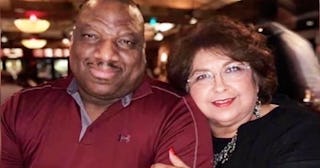 ABC13 Houston
A Texas couple, both teachers, died while holding hands after battling COVID-19
In less than a year more than 308,000 Americans have died of COVID-19. In recent months the pandemic has gone from bad to worse-than-imaginable, with the number of infections, hospitalizations, and deaths breaking records on a near-daily basis. To some, these numbers are just statistics displayed in black and white on their computer screen. This is why it's extremely important to see the faces of those we have lost and hear their personal stories, reminding us that this virus is very real, dangerous, and devastating. Paul Blackwell, 62, and his wife Rose Mary, 65, both teachers, are just two of those who lost their lives to the virus, holding hands with each other and their children as they passed away over the weekend.
Married for over 30 years, the couple died on Sunday after spending two weeks in intensive care and several days on ventilators at Harris Methodist Hospital, their son Shawn Blackwell told CNN. Both Paul and Rose Mary were teachers in the Grand Prairie Independent School District in Grand Prairie, Texas. Rose Mary spent 20 years teaching at Travis World Language Academy where she taught second grade, while her husband was a PE teacher and football coach at Fannin Middle school.
Both returned to work in the fall, despite the COVID-19 pandemic, and continued to work up until they contracted the virus in December. After weeks of being hooked up to ventilators, their families opted to take them off life support when doctors told them there was no chance of recovery.
"Doctors said they hadn't seen any progression at all, and they were slowly declining in their overall vital functions. It got to the point where it was very far gone and that there was nothing else they could do," Blackwell told CNN.
"Me and my brother came to the conclusion to let them go at peace together. They were together and holding hands. My brother and I were both holding my parents' hands as well, so all four of us were holding each other's hands as they were both removed from the ventilator."
The Grand Prairie Independent School District revealed the tragic news on Facebook on Monday, offering their condolences. "Rose Mary and Paul will be greatly missed. Our thoughts and prayers go out to their family, friends, coworkers, and students both current and former," they wrote.
On their website, the school district, which started bringing students back for in-person learning on September 14, keeps track of all COVID-19 infections. Out of 3,864 staff members, they have recorded a total of 241 test-confirmed cases and 41 active staff cases.
The couple left behind four children and 20 grandchildren. The family has set up a GoFundMe page for relief funds. "I just want people to know I am proud of the people my mom and dad were and proud of the things they accomplished," said Blackwell. "They were the definition of the greatest parents and grandparents ever."
The arrival of the vaccine offers promise, but it isn't an instantaneous and miraculous cure for the virus. Wear a mask, socially distance, wash your hands, and please, please, sacrifice your "fun" family gatherings this holiday season so that you don't have lose your parents, grandparents, or loved ones to COVID-19.