Texas Governor Accuses LGBTQ Books Of Containing 'Pornography' In School Library Fight
by Kristina Johnson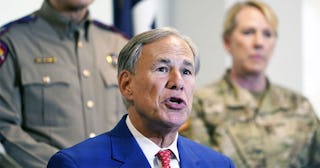 LM Otero/AP/Shutterstock
You're not going to believe this, but a Texas politician said something bonkers
Texas Governor Greg Abbott is ̶b̶a̶c̶k̶ ̶o̶n̶ ̶h̶i̶s̶ ̶b̶u̶l̶l̶s̶h̶i̶t̶ joining the crusade against controversial books in Texas schools. With two lawmakers recently challenging around 850 titles, many of them featuring LGBTQ content, Abbott hopped on the bandwagon and sent a letter to the Texas Association of School Boards expressing his concern over what kids are reading.
Abbott didn't reference any specific titles in the letter, but his dramatic wording might have you wondering if there's a school library somewhere in Texas handing out back issues of Playboy and Hustler. "The most flagrant examples include clearly pornographic images and substance that have no place in the Texas public education system," he wrote.
It's not hard to guess at least one of the books Abbott might be referring to. One of those two lawmakers, Jeff Cason, asked the state's Attorney General to investigate books in school, and specifically named "Gender Queer", a memoir in comic form by Maia Kobabe. According to its Amazon description, the book "includes the mortification and confusion of adolescent crushes, grappling with how to come out to family and society, bonding with friends over erotic gay fanfiction, and facing the trauma and fundamental violation of pap smears."
Kobabe identifies as nonbinary and asexual, and wrote the kind of book that could help young people sort out their own complicated identities when they may have literally nowhere else to turn. Kobabe told CNN the book has been banned in at least seven states after sparking a viral outcry. One or two panels (out of hundreds) in the book feature drawings of a sex act — but Kobabe says that shouldn't overwhelm everything else it has to say.
"Read the whole thing and judge for yourself, don't just go based on the one or two tiny clips you've seen on social media," Kobabe told CNN — which is perfectly sound and reasonable advice. It's also exactly what Abbott, Cason, and other politicians of their ilk won't bother to do. And kids will suffer for it.
Last week, Kobabe (who uses e/em/eir pronouns) wrote an emotional Op-Ed in the Washington Post explaining why books like "Gender Queer" are so important. "I came out as queer to my mom as a senior in high school. It took almost a decade to also come out to her as nonbinary, even though I had been questioning my gender identity since I started puberty at age 11. A major reason for this long delay between my first coming out and my second was the lack of visibility of trans and nonbinary identities when I was young," Kobabe said. "The only place I had access to information and stories about transgender people was in media — mainly, in books."
That access is exactly what's now being targeted. "Removing or restricting queer books in libraries and schools is like cutting a lifeline for queer youth, who might not yet even know what terms to ask Google to find out more about their own identities, bodies and health," Kobabe said.
Kobabe also noted that it's not uncommon for LGBTQ works to be criticized as pornography — but in reality, the very same actions, descriptions, or dialogue wouldn't raise any eyebrows at all if they were unfolding between cisgender heterosexual characters.
Abbott closed his letter to the Association of School Boards with this: "You have an obligation to Texas parents and students to ensure that no child is exposed to pornography or inappropriate content while inside a Texas public school." Clearly, Abbott isn't as concerned about ensuring that no child is exposed to homophobia, ignorance and closed-mindedness.