15 New Products Making a Splash At Trader Joe's This Summer
Mark our words: the s'mores ice cream will be the most talked about item at TJ's this summer.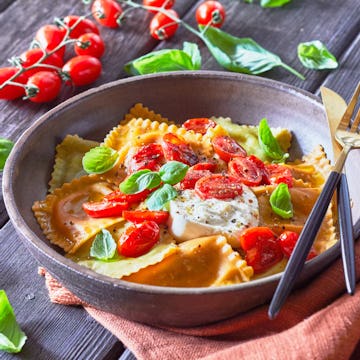 Trader Joe's
Trader Joe's is ushering in a whole new loot of salad kits, ice cream flavors, sparkling beverages, and seasoned chips for the sunniest season — and trust us, you need to try them all. The retailer is the best at keeping our taste buds happy and our bellies full, and the hot new products rolling out right now are no exception. From a fresh spicy chili hummus to two bold ice cream flavors, TJ's is definitely stepping up the game this summer.
See which products have people running to the store and the internet salivating below. Plus, what other TJ's products they pair nicely with (gotta make those trips worth it!). Still hungry? Check out these delizioso TJ's pasta recipes and this fun roundup of healthy eats at TJ's.
1. Cold Brew Iced Tea Black Tea + Lemon
In the words of Hannah Montana, Trader Joe's is giving us the best of both worlds. Put a little pep in your step with a tall glass of TJ's new must-have summer bevvie. It packs the same punch of caffeine as a glass of cold brew coffee — but with the tangy flavor of lemon iced tea.
2. Taco Seasoned Gouda Cheese
TJ's limited edition summer cheeses are officially in rotation, and up first is this Netherlands-made, taco-inspired Gouda cheese. This dairy dream is infused with jalapeño powder, dried bell pepper, onion, garlic, cumin seeds, and oregano.
3. Italian Tomato & Burrata Ravioloni
As if TJ's refrigerated pasta section could get any better, the retailer just dropped a tomato and burrata-stuffed ravioli. Coat the noods (they only take minutes to make!) in tomato sauce or olive oil and garnish with fresh basil and parmesan for a quick dinner.
4. Breaded Cheddar Curds
Bring Wisconsin to you with the official favorite snack of the cheesehead state: cheese curds. TJ's version of the fried appetizer features unaged Wisconsin Cheddar cheese. Enjoy them with your favorite dipping sauce (ranch) and an iced cold beer.
5. Shrimp Boom Bah
We love a versatile protein! Toss the popcorn shrimp in rice bowls, lettuce wraps, and salads, or dip 'em in cocktail sauce. You can warm up these bad boys in the oven, air fryer, or — if you're fancy — a deep fryer.
6. Gluten Free Strawberry Muffins
Donuts are so last summer. Surprise your coworkers or moms' group with a basket of strawberry muffins from Trader Joe's. The breakfast treat will only be available in stores for the summer, so try them while you can!
7. Snacky Clusters
Satisfy your salty-sweet craving with a handful of Snacky Clusters: a mouthwatering combo of chocolate-covered potato chips, corn chips, and mini pretzel nuggets.
8. S'mores Ice Cream
Sure to be the it ice cream of summer, TJ's S'mores Ice Cream features a graham cracker flavored base with marshmallows and bricks of rich chocolate. It's the perfect nightcap after a long day of hanging out in the sun.
9. Rainier Cherries
Only available during the summer months, rainier cherries will add both a pop of color and flavor (they fall on the sweeter side) to salads and desserts.
10. Sparkling Juices Trio
Everyone knows TJ's has amazing cocktail mixers, and this summer, the retailer introduced three new sparkling juice flavors: watermelon, strawberry, and pineapple. Enjoy them with your favorite type of liquor or as a standalone bevvie!
11. Crunchy Chili Onion Hummus
TJ's is bringing the heat this summer with its spicy new hummus flavor: Crunchy Chili Onion Hummus. I like to snack on the hummus with TJ's Organic Garlic Naan Crackers or pita bread. Just be sure to have a tall glass of water nearby; it definitely has a kick.
12. Fresh Mozzarella Pearls
No, those aren't mini marshmallows. They're mini mozzarella balls! Trader Joe's expert Natasha Fischer, aka the genius behind the Trader Joe's List Instagram account, tested the new product in a recent video and suggested pairing these mini cheese pearls with rainier cherries.
13. Oat Chocolate Bars with Crispy Rice & Cocoa Nibs
It's all in the name. These oat chocolate bars are vegan and free of dairy, soy, and gluten.
14. Golden Caramel Swirl Ice Cream
TJ's S'mores Ice Cream has some stiff competition. The "super-premium" ice cream has decadent swirls of caramel. Attached to the inside of the lid is a spoon, so you can enjoy your ice cream in the parking lot in peace and, more importantly, without having to share with the fam at home.
15. Chunky Garlic & Jalapeño Sauce
It's the season of spice at Trader Joe's! Shake a few drops of the Chunky Garlic & Jalaleño Sauce on top of burgers, eggs, or tacos.