23 Tweets That Perfectly Describe What Living With Depression Feels Like
by Sarah Schuster for The Mighty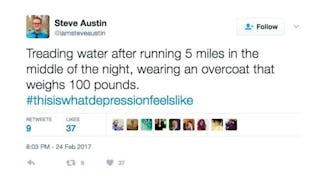 IAmSteveAustin / Twitter
Because it can be hard to describe what depression is like in real life, #ThisIsWhatDepressionFeelsLike is inviting people to share their experiences on Twitter. Using the hashtag — an offshoot of #ThisIsWhatAnxietyFeelsLike — people have been having honest conversations about the harsh reality of living with depression. Their descriptions are powerful, and a reminder that however dark it might get, you're never alone.
Here are some of the tweets that resonated with us:
1.
2.
3.
4.
5.
6.
7.
8.
9.
10.
11.
12.
13.
14.
15.
16.
17.
18.
19.
20.
21.
Of course, not everyone experiences depression in the same way. If none of these resonated with you, how would you describe what depression feels like? Let us know in the comments.
This post previously appeared on The Mighty.