What My Mom Taught Me About The Meaning Of Home
by Brigid Kaelin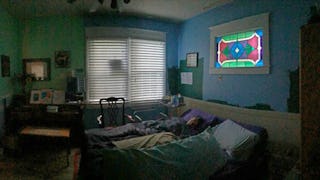 Brigid Kaelin
The photo above is of my parents' dining room, and it encompasses everything I adore about my mother. This was my normal. I never heard the concept "everything has a place," until spending time with David's family, who keeps a beautiful home, complete with a closet entirely for tablecloths, pressed and perfectly hung. As you can see, my mother's preference is, um, scattered, but she's always had the ability to tell you exactly where anything is.
"Mom, where are the scissors?"
"Bedside table, next to the purple earrings and underneath the stack of bracelets."
There were times in my life when I was embarrassed to have friends over, but that wasn't until sometime in middle school, when I realized my friends had a lot more money than I did. For a while, I didn't think that mattered. All the books and movies had taught me that money wasn't important.
But one time a friend told me she was no longer allowed at my house because she'd told her mom there was a roach, and suddenly I was embarrassed about every little thing — that my parents worked multiple jobs, that I never got Tretorns, that I had to color a little blue rectangle on the back of my generic white shoes to make it look like they were Keds, that I'd never been out of the country, that our house wasn't spotless. My head knew that was ridiculous, that love was more important than vacuuming, and that I had more love than any household I knew.
My parents have never kept a perfect home. My grandparents, I am told, did. When my mother purchased the Speevack family home in 1974 from her parents, who had lived there for 25 years, she made the home hers.
The furniture from her parents remained, but the walls would take on new lives for the next 44 years. An obvious act of rebellion (she was only 22, after all), she literally wallpapered the living room with an Old Fitzgerald billboard. As the years rolled on, she stripped other wallpaper and painted the walls outrageous colors. My wonderful dad never commented, at least not out loud.
The past couple of weeks I've slept in the dining room of my family home — a home that was last on the market in 1948. That stone elephant I'm staring at? It's been in this room for 70 years.
We moved some furniture out to make room for a hospital bed, only to discover that when Mom painted the dining room about 3 years ago, she painted around the furniture. She also purposefully chose a 2-color theme for the dining room: a mint green and light sky blue. Rather than having different colors for below and above the chair-rail, Mom instead divided the room vertically — and freehand with a paintbrush (i.e. crooked) at that.
She was so proud of this brazen design choice, and I love her for it. Because, while I know nothing about interior design, I do know that your home should make you happy. A wall that is half mint green and half light blue has made my mother happy, and I love that she now opens her eyes to this design every day — a reminder that she always did exactly what she wanted.
She wears socks with her Birkenstocks, and floral skirts with paisley shirts, and dangly earrings like a Spanish teacher. Her living room is purple, her kitchen is turquoise, and the living room is half-blue, half-mint green, partially hunter green, partially beige. Her bedroom was coral and teal for 20 years, but recently went bright lavender, and the sunroom is bright red. There's a half-finished mural of flowers in the kitchen, which Mom won't paint over even though the plaster is falling down because I painted it when I was a teenager.
The house is a realtor's nightmare, and I know my grandmother would be mortified, but it sure does make my mother happy.
My mother never turned down an invitation, was always the first to arrive at every party, knew every word to every song she heard (though she could never clap along on the beat), loved her family and friends fiercely, and didn't give a crap about dust on the fireplace or that her daughter was using her fancy NYU degree to sing pub songs. It is priorities well-placed, I believe.
I'm sitting in this blue, green, and beige dining room right now typing by my mom and noticing I'm using past tense, which makes me sad. She's still breathing. I'm one foot away from her right now, while she sleeps peacefully, out of the awful pain she's been in. I'm not so able to sit still because I look around and see so much to do.
I've been throwing away a lot of things (old pens, not old photographs), and dusting and scrubbing and trying to distract myself from what is happening. I know, however, that I should stop cleaning and planning and just hold my mother's hand. I mean, if she taught me anything, it's that it you should slow down, hold hands, and paint your house whatever color you want.
Update: The author's mom died shortly after this was written.