This "What To Eat" Pad Makes Planning Dinner So Much Less Of A Pain In The Ass
We only recommend products we love and that we think you will, too. We may receive a portion of sales from products purchased from this article, which was written by our Commerce team.
by Gina Vaynshteyn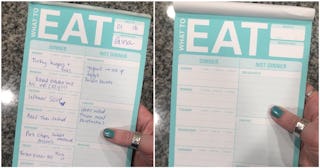 Scary Mommy/Gina Vaynshteyn
When it comes to figuring out dinner for the week on Sunday morning (before I do grocery shopping), I am optimistic and set high goals and expectations for myself. I will make dinner every night. I will not eat out every night (only Saturdays as a #treat). I will not even eat out if I've had a sucky day and so badly want the sushi drenched in spicy mayo. I will not eat chocolate covered almonds and Flamin' Hot Cheetos for dinner if I'm tired. I will stick to a plan, god damnit. But then I won't write my meal ideas down and the week just goes to hell.
That is, until I bought my first What to Eat Pad which is a meal planner with a magnet, so you can conveniently stick it to your fridge. You fill out by day, and label the week and "master chef" if you're cutesy like that. Here's what mine looked like this week. And yes, I've made everything thus far and deserve all the praise, thanks!!!
I originally found this (it's by the brand Knock Knock) at World Market, but then realized it's sold on Amazon. And it comes in a couple colors (mint, yellow, and a new pastel edition I just discovered today).
Sure, you can just write a list on a piece of notebook paper, or keep everything in your planner or Google cal. You can do whatever you want, you're your own person. But I'm just saying, there's something about this meal planner that makes my life easier and also makes it much harder to deviate from my original weekly menu. (Also, I am fully aware shit goes awry, and sometimes you just gotta improvise.)
Each pad comes with 60 sheets, so you're all set for a while. Happy meal planning, friends.