Make Room On Your DVR – Lifetime's Releasing 18 Holiday Movies This Year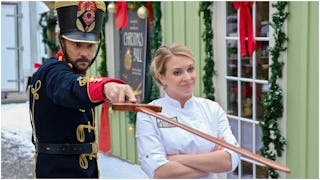 Image via Lifetime
Lifetime has 18 (!) holiday movies coming out this year and you're gonna want to watch all of them
The holidays are just around the corner which means all the egg nog, presents, and coziness. It also means that Lifetime is releasing a whole slew of holiday-themed movies (18 to be exact), so you're going to want to start marking your calendar. Prepare to fall in love with all the small town cuties who remind you of what's really important.
First up, we've got Jingle Belle (November 25).
Isabelle (Tatyana Ali) and her high school sweetheart Mike (Cornelius Smith Jr.) always used to perform together at their small town's annual Christmas Eve pageant. Then, Isabelle heads to Juilliard, "leaving Mike behind." Sparks fly when Isabelle returns home to write lyrics for the pageant and finds out that Mike is directing the show. This sounds very fun but if Isabelle is made to feel bad for following her dreams to freaking Juilliard we will SCREAM.
Next, we have A Very Nutty Christmas (November 30).
To be honest, we will follow Melissa Joan Hart wherever she goes (long love Sabrina Spellman). In this film she plays Kate Holiday, a bakery owner who gets unexpectedly dumped by her boyfriend. The next morning she wakes up to a very handsome soldier in her living room, who just might be the Nutcracker Prince from Tchaikovsky's The Nutcracker. Yup, PLEASE sign us up for this very realistic plot line, thank you.
In the mood for even more whimsical romance? Let's turn our attention immediately to Santa's Boots (December 8).
Holly (aka Megan Hilty from the supremely underrated Smash) returns home for Christmas and discovers that her family's department store might be facing foreclosure. She fills in as Santa's helper and meets a very cute man who's playing Santa. Then *POOF* he disappears. All that she's left with is one of his boots. Loving the Cinderella role reversal very, very much.
Okay, are you feeling a few more small town romances? Onto A Christmas in Tennessee (December 9).
This one revolves around Allison Bennet, a bakery owner in a small mountain town. All is well and good until a real estate developer tries to buy the town for a corporate ski resort. The synopsis heavily suggests that Santa Claus swoops in to save the day, and we can definitely get behind that totally not predictable plot twist.
Now it's time to reunite with some former flames in Christmas Pen Pals (December 15).
A dating app creator named Hannah heads home for the holidays in the hopes of reviving her failing business. There, she runs into her high school boyfriend and begrudgingly signs up for her town's anonymous holiday pen pal service. She starts receiving beautiful letters and the rest is You've Got Mail history.
Here's to a holiday season filled with all the cozy Lifetime movies. By the end, we better have all moved to a quaint small town, fallen in love with our nemesis, and opened our very own bakery.