Lil Nas X Covered 'Jolene,' And Dolly Parton LOVED It
by Christina Marfice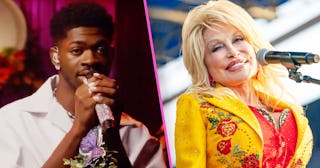 LilNasX/Twitter and Douglas Mason/Getty
We're all Lil Nas X fans — and that includes Dolly Parton
There's something about seeing different celebrities interact with one another online that's just so much fun. That's especially true if they are both generally beloved figures and belong to different genres or generations — it feels like a delightful crossover episode no one saw coming. And of course that's the case with the adorable Twitter interaction that just happened between Dolly Parton and Lil Nas X, because, come on, it's Dolly Parton and Lil Nas X.
It all started when Lil Nas X did a cover of Parton's iconic song "Jolene." Don't worry, there's a video in a minute so you can check it out for yourself and see that, yes, Nas is an artist who can tackle any genre and crush it.
When Parton caught wind of this new "Jolene" cover, she took to Twitter to share a video and her thoughts.
"I was so excited when someone told me that Lil Nas X had done my song #Jolene," she wrote. "I had to find it and listen to it immediately…and it's really good. Of course, I love him anyway. I was surprised and I'm honored and flattered. I hope he does good for both of us. Thank you @LilNasX."
Of course Parton is as much of a Lil Nas X fan as the rest of the world. While it's a little surprising to see, it's also not surprising at all, because his music is incredible and naturally, Dolly has great taste. Icons hyping icons. You just love to see it.
And of course, Lil Nas X was just as thrilled to have been recognized by the Dolly Parton. He retweeted her tweet, and also shared it, adding, "HOLY SHIT" to the top in all caps, which is also how we would feel if we were ever personally recognized by actual queen Dolly.
This is just icing on the cake for Lil Nas X, who is having one heck of a year. He attended his first Met Gala, slayed in a whole bunch of performances of his song "Montero (Call Me By Your Name)," and finally released his highly anticipated Montero album, which was absolutely worth the wait — it's incredible. While getting a personal shout out from Miss Dolly Parton herself might feel like a really freaking huge deal, it's honestly not surprising for Nas, who's just out here proving himself to be one of the most talented, innovative artists in the game right now.