Lin-Manuel Miranda Wrote A Song Inspired By Parkland That Will Have You Sobbing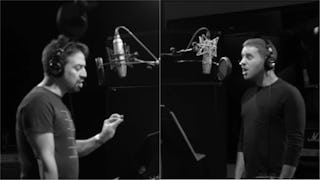 Image via Atlantic Records / YouTube
Lin-Manuel Miranda's collaboration with Ben Platt is inspired by Parkland
Grab the tissues before you hit play on the video below. Or don't, but don't say I didn't warn you. Hamilton writer Lin-Manuel Miranda just teamed up with fellow broadway star Ben Platt to release a song about gun control and the kids who are leading the movement in the U.S. and oh my God, I'm crying again.
The video features Miranda and Platt in the studio recording the song, as well as a lot of cuts to the producers, orchestra members and others just listening in as they become overwhelmed with emotion. It's a beautiful song and a beautiful video, and damn it, where did I put those tissues?
The song contains lyrics from Hamilton and Dear Evan Hansen, the musical Platt stars in. It was inspired by the students of Marjory Stoneman Douglas High School, who inspired a movement after surviving the Feb. 14 shooting that killed 17 of their classmates and teachers, and who are now leading the fight for gun control. A portion of proceeds from sales of the song will go to the March For Our Lives, set for March 24, when high school kids and the adults who love them will march on Washington, D.C. and all over the country to shame the useless adults who have watched child after child be murdered and still haven't done a damn thing about our school shooting epidemic.
The lyrics are honestly so perfect and so powerful. With lines like this:
"We may not yet have reached our glory
But I will gladly join the fight And when our children tell their story They'll tell the story of tonight."
And this:
"Have you ever felt like nobody was there?
Have you ever felt forgotten in the middle of nowhere? Have you ever felt like you could disappear? Like you could fall, and no one would hear?"
How could anyone listen to this and not just sob? And that includes student leaders from Parkland, like Emma Gonzales and Cameron Kasky.
The collaboration is stunning, because not only do both Miranda and Platt have voices like angels, but Dear Evan Hansen is a perfect choice to lend to this subject. The musical follows its titular character, Evan Hansen, a high school senior with a severe anxiety disorder who struggles to make friends. After a fellow classmate, also friendless, commits suicide, Evan makes up a story about having been close friends with Connor to help ease his parents' grief. The musical explores topics of mental illness and bullying, and it's as heartbreakingly beautiful as this new song.
You can purchase "Found/Tonight" on iTunes and Amazon, and support the March For Our Lives in the process. This is a total no-brainer.