Lin-Manuel Miranda Releases The First 8 Minutes Of 'In The Heights'
by Valerie Williams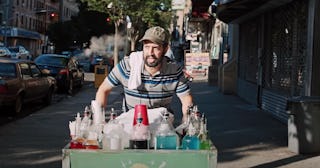 Warner Bros. Pictures/Youtube
Lin-Manuel Miranda's "In the Heights" comes out on HBO Max this Thursday and in theaters on Friday but today, you can see the first eight minutes for free!
Actual genius Lin-Manuel Miranda's much-anticipated musical movie In the Heights comes out this week on both HBO Max and in theaters, but today, Miranda announced the release of the first eight minutes. Because he loves us and wants us to be happy.
In the Heights is the film version of Miranda's 2008 multiple Tony Award-winning musical of the same name. The film features Anthony Ramos and Lin-Manuel Miranda himself along with Marc Anthony, Jimmy Smits, Corey Hawkins, and others. The musical is about the predominately Latin neighborhood of Washington Heights in NYC.
In the opening number, Usnavi De La Vega, played by Ramos, raps introductions of himself and the neighborhood. You might recognize him as he was also part of the original cast of Hamilton.
Olga Merediz stars as Abuela Claudia, Daphne Rubin-Vega as Daniela, Stephanie Beatriz as Carla, Dascha Polanco as Cuca, Gregory Diaz IV as Sonny, Marc Anthony as Sonny's father, Jimmy Smits as Kevin Rosario, and Noah Catala as Graffiti Pete. Miranda, who produced the film and wrote an original new song, plays Piraguero, a Washington Heights local who sells flavored ice.
"It's going to be Washington Heights that is going to show the world how to get up again," says the film's director Jon M. Chu as he addressed the audience ahead of a special preview screening of the movie. "Because it showed me how to get up again." Chu also directed 2018's Crazy Rich Asians so you know this movie will be a hit.
Chu took to Twitter to share his joy over the film being released this week along with some "fun facts" about creating it.
When it comes to a possible sequel, Leslie Grace, who plays Nina Rosario in her acting debut, gives us hope that the film won't be a one-and-done sort of deal. "One thing is for sure. We're all signed up for that. We are ready and waiting in line, even if it takes 20 more years like it took for the first one."
The film debuts in theaters this Friday, June 11, and will begin streaming on HBO Max on June 10th where users will have access for 30 days.