Lin-Manuel Miranda Releases Never Before Heard 'Hamilton' Track
by Christina Marfice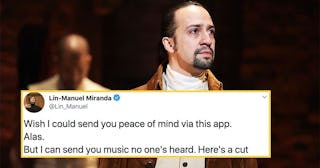 Theo Wargo/Getty
Lin-Manuel Miranda knows we need something to brighten our days, so he just delivered
For anyone who's reading the news these days, things are undeniably bleak. The novel coronavirus is continuing to spread around the world, with thousands of new cases each day. Italy is still under total lockdown, and its hospitals are overwhelmed. Experts keep warning us that the U.S. will probably experience a similar scenario. It's just scary stuff. But just leave it to Lin-Manuel Miranda to lighten the mood.
Miranda is the writer and original star of Hamilton, a Broadway show that got so big, you just might have heard of it. He's also an absolute gem of a human who routinely uses his Twitter account to spread as much joy in the world as he possibly can. This week, he sees us all having a hard time out here, so he decided to give us a gift: A track he wrote for Hamilton but never recorded, so it's never been played publicly before this. In fact, Miranda noted, he didn't even play the track for members of his musical-writing team.
The song is called "I Have a Friend," and it's supposed to be a conversation that takes place between Alexander Hamilton and George Washington just before "The Reynolds Papers," which is the moment that Hamilton's affair becomes public and his wife leaves him. In the song, Hamilton and Washington talk about Hamilton's "friend" who has gotten into trouble, and what he can do about it. Since the song was cut from the musical so early on, Miranda sings both the part of Hamilton and the part of Washington.
While the recording is rough around the edges, it's definitely doing just what Miranda intended it to do: Making a lot of people smile, despite the scary and uncertain time we're living through right now.
The timing of Miranda's tweet can't be ignored. Just yesterday, New York banned gatherings of more than 500 people, which caused the Broadway theater district to go dark. The city is home to one of the largest coronavirus outbreaks in the U.S. so far, with more than 100 cases confirmed positive. Mayor Bill de Blasio said he expects that number to jump into the thousands once testing becomes more widely available. In the U.S. so far, around 1,800 cases have been confirmed in 46 states, but those numbers change rapidly each day.