Lin Manuel Miranda Shares Story About How Fans Protect His Son's Privacy
by Cassandra Stone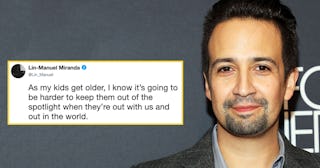 Taylor Hill/Getty
Lin Manuel Miranda shares an important story about being out and about with his oldest son, Sebastian
Hamilton creator and all-around musical genius Lin Manuel Miranda knows his fans love him. He also knows that being extremely famous and a coveted American treasure means his fans are always going to want to snap photos of him or with him. And since he's very much an out-and-about New Yorker, he's cool with it. But he's not so cool with fans taking photos of him with his kids — particularly his 4-year-old son, Sebastian. Which is why he addressed the matter directly (and so very earnestly, natch) today on Twitter.
He and his wife, scientist/professor/goddess Vanessa Nadal, very much want to keep photos of their sons' faces off-limits. Which is totally understandable, because the kids of celebrities didn't choose to be famous, so wanting to keep their identity private while they're too little to make their own choices makes sense.
Miranda admits he knows this is hard, and it will continue to grow harder as his kids get older. But he's thankful that most people abide by his wishes.
"I really just wanted to thank you for helping us with that so far," he tweets. "I've seen you swarm to protect when someone's uploaded their pictures. I've gotten DMs from you when video of them has surfaced. You have all been so incredible and understanding. My kids didn't sign up for all this."
Frankly, it's kind of awesome that so many of his fans respect him and his wishes so much that they personally look out for him and his kids on the internet. It's even more awesome that Miranda recognizes this and felt like giving his fans a heartfelt "thank you."
He goes on to describe a recent incident where he had to battle his instinct to be a protective father versus his son's desire to simply be a kid in a public space.
[For what it's worth, can we all agree to make "I don't have the power to Patti LuPone this" a popular catchphrase? Because it truly applies to so many things and, well, the mental image alone is perfection. It's the least we can do as a service to one such queen.]
Anyway. Miranda says he gave into his kid's wishes (because he deserves to sing Batman if he wants to, damn it) and he's very thankful his fans were so respectful about it.
Sure, as Sebastian and his younger son, Francisco, grow older and continue to accompany their famous dad out and about all over New York, it will likely get harder to exert control over people posting photos of them.
But it also speaks volumes of Miranda himself that people are so ready and willing to not be assholes when it comes to his dad time — and his children's right to privacy.
https://twitter.com/jetpack/status/139203116249878534
If anyone is consistently generous with his time and energy, it's Lin Manuel Miranda. He's never not working on a major, culture-shifting project and he's always so pleasant and willing to go above and beyond for his fans.
It's nice to see that's a two-way street.